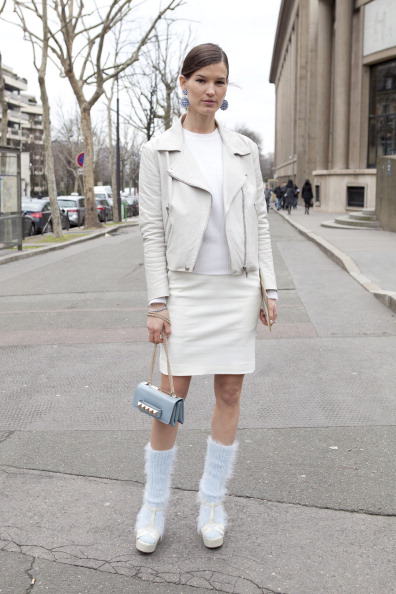 Not quite ready for sandal season?
What about socks-with-sandals season?
DNAinfo reports that socks paired with sandals are a thing, so many seasons after it actually became a thing.
Quoting bloggers and stylists, the website championed the look commonly associated with "dads" and the "elderly" as a great way to transition between seasons, and advised ways to transform a faux pas into something OOTD-worthy.
"It works well with lightweight and solid-colored socks matched with flat-formed shoes, topped with a dress or miniskirt," stylist Sara Cooper told the website, who credits her as someone who has been "dressing models for 10 years."
Which is about the amount of time that the toasty "trend" has been on the runways. And yes, typically for the Spring/Summer collections.
To be fair, the site did name designer inspirations, from high-fashion (Celine) to street (Rag and Bone) to WASPy (Kate Spade and Tory Burch), but was remiss to mention Miuccia Prada, the queen of subverted frump herself. Often citing German hausfrau as an influence, the Milanese designer has been sending sock-footed models down the Prada and Miu Miu catwalks for years.
Early adopters like Hanneli Mustaparta were channeling the marmy aesthetic in March… of 2012. Scores of other proto-bloggers, probably earlier than her.
That it is the domain of front-row fixtures and street-style web-celebs points to the fact that it's a styling trick that is just that—tricky. Because of the height (not to mention the angle at which a heeled pair might tilt your arches), the addition of polyester, cashmere or viscose blends into the mix makes you slip and slide around inside your sandal. It's really better left in the pages of a magazine.
Even socks with Birkenstocks, another nostalgic micro trend among 90s-reared fashion folk, can admittedly get a little slippery, even if you opt for the classic Milanos with the strap around the ankle. But the sloshy feeling speaks to the whole earthy feel of the revival, which last summer, Williamsburg-based blogger Izzy Tuason of the Dandy Project, summed up succinctly.
"New York is having an ugly sandal moment," he said.