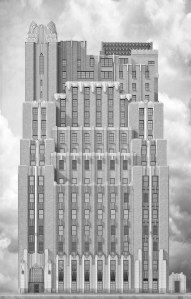 The JDS Development Group, Property Markets Group and Starwood Capital Group—the oh-so-shrewd trio behind Walker Tower—announced the opening of sales today at another Ralph Walker-themed collaboration, Stella Tower, at 425 West 50th Street in Hell's Kitchen. (Sales have actually already been proceeding quietly over the last few weeks; today's announcement represented merely the "official" sales launch.) As they did at Walker Tower, the developers have focused on "keeping the integrity of Ralph Walker's vision, concentrating on the facade and Art Deco ornamentation that made him famous, while also adding custom-designed, quality finishes and amenities," according to a statement from JDS managing director Michael Stern.
When we visited the building last month, we found marble and hardwood, custom millwork and cabinetry, and various other high-end niceties set against rustic-industrial and period details like exposed beams and transom windows shot-through with meshed wire. One to three-bedrooms will be priced from $1.8 million to $6.2 million, while the penthouses will top out at $14 million. That's a far cry from Walker's $50.9 million penthouse. But Douglas Elliman's Vickey Barron, who is handling sales at Stella—as she did at Walker—told us that she expects to steadily increase prices in Hell's Kitchen the same way she did in Chelsea.
"Stella Tower is poised to transform the Hell's Kitchen market the same way Walker Tower transformed Chelsea," Elliott Joseph, a principal of PMG, further predicted in a release. "Stella Tower will set the bar for refined design and quality in this neighborhood."
Whether Walker Tower "transformed" Chelsea is up for debate—the neighborhood seemed to us to be doing just fine before that uber-luxurious conversion came along—but certainly, it has helped push up local prices. (And that's always a welcome change to the community, right?) Hell's Kitchen, too, is already in the midst of significant transformation. What with that whole Hudson Yards thing going on just a few blocks south of where Stella Tower stands. Though we are not sure if Chelsea levels of hotness are on the horizon for Hell's Kitchen.
Mr. Joseph likely has a point, however, about his new building's place in the neighborhood hierarchy, and Stella might well be helpful in changing buyers' perceptions of the area, which retains a semi-far-flung and occasionally desolate aura, and which, ironically, also suffers from close proximity to Times Square. But even if Stella does not transform Hell's Kitchen into a post-Walker Tower Chelsea (and really, a pre-Walker Tower Chelsea would do quite nicely), the news will not be all bad for building residents. It is, after all, an awfully nice place to stay inside.