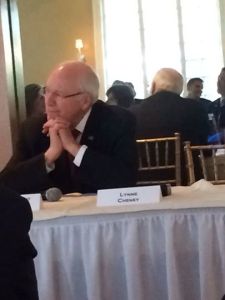 Bergen County Democratic Committee Chairman Lou Stellato said incumbent Bergen County Executive Kathe Donovan should refuse to accept any campaign money raised by former Vice President Dick Cheney and GOPAC, a super-PAC affiliated with Ocean County GOP Chairman George Gilmore.
GOPAC donated $7,200 to Donovan during her last campaign and received an additional $7,200 towards her primary 2014 election.
"Dick Cheney came to Hackensack yesterday to raise money for GOPAC and Kathe Donovan," said Chairman Lou Stellato. "Dick Cheney and GOPAC are a big part of what is wrong with government and politics today. The majority of Bergen County families do not share Dick Cheney's extreme views and Kathe Donovan's affiliation with GOPAC is quite troubling. Kathe Donovan and her entire team are tainted by GOPAC's money."
The former Vice President headlined a fundraiser last night at the Stony Hill Inn in Hackensack.
"The decisions and positions advocated by Vice President Cheney has cost the country so many American lives and nearly sent our country into another great depression. I cannot understand how Kathe Donovan can be affiliated with GOPAC and be affiliated with this event," Stellato said.