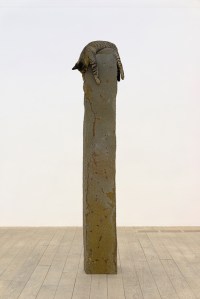 Stephen Lichty's knockout solo gallery debut centers on an untitled monolith of columnar basalt sourced from Grand Coulee in Washington State. Six and a half feet tall and pale gray, it has a footprint naturally shaped like the trapezoidal pentagon on Superman's breast. It is speckled with maroon dots and a few white patches, with a blackish water line whipping down its left edge like lightning; viewed from the gallery door, it looks simple and rectangular. Another facet is more liberally water stained, and a third is the purplish-black color of a bruise up to the top fifth or so, where it narrows slightly and then offsets, like the point of a stone axe, and is dappled with orange oxidation. Unweathered, the stone itself would be the color of a prehistoric night, as you can see in the brief, restrained curve that Mr. Lichty has polished onto the tip, just visible to either side of the taxidermied tomcat draped over it. A gray tabby with black spots, black rings on its legs, blond highlights and gently closed eyes, the cat stretches out in a curiously human position, its hind legs and tail hanging straight, its back relaxed, its forelegs extended to embrace what is at once its tombstone and its foundation, and its muzzle resting to one side of the corner like a napping child on its father's shoulder. One tiny fang pokes out.
As if to illustrate the mechanism, or else take confident possession of the heavy white structural column in the center of the gallery, Mr. Lichty has placed two other pieces to the other side of it. In one, also untitled, a 10-inch square of dark gray basalt sits on a solid block of black steel the same size, like an archive box of self-motivated reality. The other, Cord, is two strands of black silk, fixed vertically into floor and ceiling and knotted together with a foot-long overlap, like a man pulling a drowning friend out of the water hand over hand. In the back room, two narrow bronze troughs, filled with water and just discernibly burbling, continue the artist's deeply humane approach to fundamental geometries as Fountains.
The monolith is equally silent, present or beautiful from any side. Immovably bridging the animate and inanimate, spectacle and secrecy, finding and making, vertical and horizontal—even solids and stripes or, if we can credit such a solemn piece with a dirty joke, lingam and pussy cat—it takes on the question of art's mimetic function and calls its bluff by leaping right over it. But I quailed at such direct apprehension and positioned myself where I could stare into the cat's eternally sleeping face, instead.
(Through June 28, 2014)