Sturtevant, whose repetitions of now-iconic Pop and Minimal artworks in the 1960s anticipated the rise of appropriation art more than a decade later and formed the core of one of the most radical and beguiling artistic practices of the past 50 years, has died in Paris. Artforum confirmed the news. Some published reports put her age at 84, though as with so much about her life and art, that cannot be stated with absolute certainty. (Other sources say she was born in 1924.)
It is often difficult to spot a Sturtevant. Even up close, one of her works may resemble a Warhol Marilyn, a Stella black painting, a Johns flag or an Oldenburg Store sculpture. Beginning in the 1960s, part of the art crowd in downtown New York, she began learning artists' techniques and making their work. "She adopted style as her medium," as MoMA PS1's associate director, Peter Eleey, has put it.
In the mid-1960s, for instance, just as he rocketed to fame, Warhol let her use his silkscreens to make paintings. Quizzed by an interviewer about how he made his own work, he quipped, "I don't know. Ask Elaine," using the name that she dropped. Not all the artists she repeated were as understanding as Warhol. When she repeated Claes Oldenburg's Store (1961), six years later, again in the East Village, she said he was livid.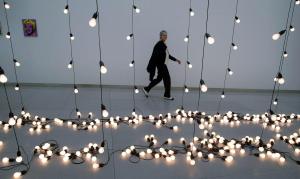 It is almost impossible to overstate the prescience of Sturtevant's art. Her repetitions—she was always clear that they were not copies, since they are not precise replicas—prefigured appropriation art and the vast amount of contemporary art that riffs on, tweaks and plays with other art objects. A cliche that is often said of so much art actually holds true with hers: once you see it—or even read about it—you cannot quite think the same way about art ever again.
Elaine Sturtevant was born in Ohio around 1930, and attended the University of Iowa. In the 1950s she moved to New York and received a master's degree from Columbia. When I asked her two years ago what she had studied there, she declined to answer but then relented, somewhat, explaining, "Basically it was seeking out the base of language…Seeking out the power of language."
Despite her resistance to straightforward interviews (and her absolute refusal to discuss her biography, preferring to focus on her work), she could give a masterful soundbite: "I create vertigo," she once explained. She said that her aim was to "trigger thinking."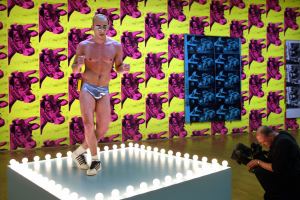 Her first solo show was at the Bianchini Gallery in 1965, and included a George Segal-style sculpture of a man pulling a clothing rack hung with works by Stella, Rosenquist and others. Warhol Flowers papered the walls. A few more shows followed, including a survey at Syracuse's Everson Museum in 1973, but by the mid-1970s Sturtevant had stepped out of the art world and was living in Paris. "I was writing, thinking, playing tennis and carrying on," she said in an interview with critic Bruce Hainley, who last year published a study of her work that sheds light on, among other things, her largely unknown early work in performance.
In 1986, she returned to public view with a survey at White Columns and began to show more regularly, producing repetitions of works by Keith Haring, Félix González-Torres (his storied go-go dancing platform) and others.
Around 2000, she began focusing on video pieces, often tightly edited multiscreen numbers that used looped stocked footage, again probing the power of images and repetition. (She showed with Anthony Reynolds Gallery in London, Galerie Thaddaeus Ropac in Paris and Gavin Brown's Enterprise in New York.)
Sturtevant had major shows at the Musee d'Art Moderne de la Ville de Paris, Stockholm's Moderna Museet, Frankfurt's Museum für Moderne Kunst, Kunsthalle Zurich and London's Serpentine Gallery, and Mr. Eleey is planning a show at MoMA that will open Nov. 9, 2014. At the 2011 Venice Biennale, she won the Golden Lion for Lifetime Achievement. She is survived by a daughter, Loren, and two grandsons.
Her influence on the course of recent art history is profound, and there are too many great, fascinating Sturtevant stories to even begin to present her ranging wit here, but one particularly interesting one—told in a pamphlet accompanying her White Columns show—concerns Marcel Duchamp, whose notion of readymade sculpture she carried into uncharted territory.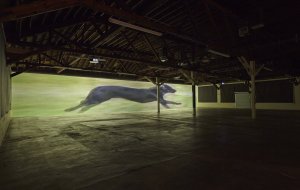 In 1967, Sturtevant staged, at the School of Visual Arts, Francis Picabia's ballet Relâche. The first performance of that work in 1924 was infamously called off, supposedly because the lead dancer had fallen ill. (Its name—"canceled," in English—had many thinking it was a prank, though later performances went ahead as planned.) Duchamp, who of course knew of the original Relâche, decided to attend Sturtevant's performance but arrived to discover that the show had been called off. He returned to his taxi, which was idling outside (his wife Teeny had been waiting for him).
Shortly after, Duchamp invited Sturtevant to dinner, and asked her how the performance had gone. "Fine, thank you," she responded. He wondered, had everything gone as planned? "Yes."
"That's quite beautiful," he said.