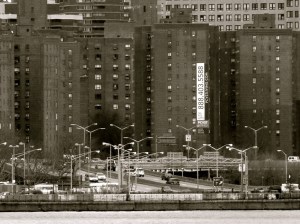 The greatest saga in New York real estate could finally be drawing toward a close. Sources tell the Observer that CW Capital, the company that has been overseeing Peter-Cooper Village and Stuyvesant Town on the behalf of senior mortgages lenders, plans to announce today that it will move to foreclose on and formally take ownership of the vast housing complex, setting the stage for a future sale.
But rather than ending the eight-year-long drama, CW Capital's move might just prolong the suffering of tenants in the overleveraged property, politicians and housing advocates say, in the event that a new buyer overpays in the hopes of forging a success where Tishman Speyer and Blackrock failed spectacularly. (In 2006, the partnership paid a record-setting $5.4 billion for the then-affordable housing complex—intending to shift its inventory to market-rate rentals—but lost it to lenders four years later amid the housing crash.)
CW Capital both holds a secondary mortgage on the property and represents a series of trusts that hold the $3 billion initial mortgage, according to The New York Times, which first reported the news. An auction, which would be scheduled for 30 days for now, would allow CW to take possession, a move, the company told The Times, that would have "no impact on our residents or on property operations." (CW did not immediately respond to the Observer's request for comment.)
But housing advocates worry that another buyer might repeat the mistakes of previous investors, overpaying for the property and then attempting to free up equity by ousting remaining rent-stabilized tenants. (On a sidenote: CW Capital has yet to pay out the $68.7 million that is owed to residents in illegally-deregulated units, as per the terms of a settlement they reached with bondholders last summer.)
Tenants in the complex are themselves pushing to buy the property and convert it to condos, with Brookfield as a capital partner, a move that political leaders, councilman Dan Garodnick among them, supports as the option most likely to remove it from the cycle of over-leveraging that threatens to strip of complex entirely of affordable housing.
"Any plans for the future of the property must involve the tenants, who have become weary of being treated like an ATM machine," Mr. Garodnick wrote in a statement. "
They deserve a seat at the table, and the outcome here must respect the history of the community as a home affordable to middle-class New Yorkers."