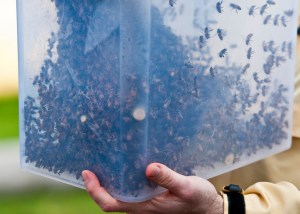 A swarm of 24,000 bees descended on Montrose Avenue in Williamsburg just after noon on Wednesday.
Detective Anthony Planakis, the NYPD's go-to beekeeper, cleared the swarm by closing down the portion of the street between Lorimer and Leonard streets. Between 12 p.m. and 2:30 p.m. he vacuumed up the bees using a queen bee from another swarm to lure them in, according to DNAinfo.
Mr. Planakis, or "Tony Bees" as he is known, said that attention from bystanders may have aggravated the swarm. One bystander attempted to trap the bees under a food container.
Resident Esteban Lopez buzzed the police to report the swarm, the first incidence in the neighborhood. The bees were transferred to an apiary in Connecticut.
Mr. Planakis predicts that growing hives could quickly escalate to more swarms this summer.
"We had a bet and I said it would start up the week after Mother's Day," Mr. Planakis said. "I may be wrong, but in 38 years I've never been wrong."