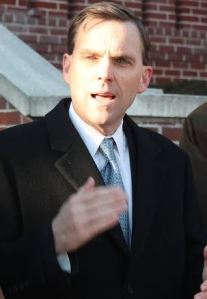 Senate President Steve Sweeney (D-3) issued a congressional endorsement Thursday, a day after another New Jersey Steve co-hosted a fundraiser for the CD 2 hopeful.
The top Senate lawmaker endorsed former federal prosecutor Bill Hughes Jr.'s bid against incumbent U.S. Rep. Frank LoBiondo (R-2). Sweeney touted Hughes as a strong candidate "who will have the political courage to go to Washington and work with both Democrats and Republicans to get results for South Jersey."
In response, Hughes thanked Sweeney for his support and declared: "When you think of South Jersey politics, you think of Senate President Steve Sweeney."
The statement comes a short time after Jersey City Mayor Steve Fulop – who, like Sweeney, is widely recognized to be eyeing a possible statewide run for governor – ventured into South Jersey Wednesday evening to co-host a fundraiser for Hughes.
It was the first time Fulop traveled to South Jersey for such an event.
"We had a terrific turnout of business people and local elected officials ranging from small towns to Atlantic City," Fulop said. "It was great to meet many new people from South Jersey and raise some money to support an outstanding Democratic candidate for Congress."