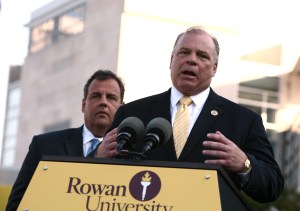 TRENTON – Senate President Steve Sweeney (D-3) is pressuring Republican lawmakers to continue to support his Sandy Bill of Rights legislation despite Gov. Chris Christie rejecting the proposal.
In a letter to Republican lawmakers late last week, Sweeney told colleagues "this should not be about party or ideology," and called on GOP legislators to help override the governor's conditional veto – something the Democratic-controlled Legislature has failed to do since Christie took office.
"After Sandy struck, we all banded together and worked to rebuild New Jersey, he said, affirming party affiliation shouldn't be a concern moving forward.
He added, "Clearly it wasn't when we passed the bill without a single 'no' vote this spring."
The bill passed the Senate following a 34-0 vote and a 72-0 vote in the Assembly.
"Thank you for your time," the letter concludes, "I would appreciate … [a] response to this letter by the end of next week."
Earlier this month, Christie rejected the bill, saying it included "partisan political findings" and mandates that would be impossible to implement.
An override would require 27 votes in the Senate and 54 votes in the Assembly.