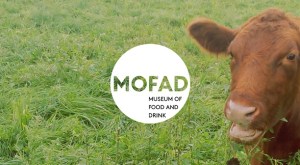 For the past three years, forward-thinking foodies and history-minded chefs have gathered one day a year to celebrate the possibility of the country's first permanent museum devoted to food and drink. The first year, Mark Ladner of Del Posto served a whole roasted ostrich in the basement of his restaurant, complete with bright yellow plumes. The second year, they puffed millet in Carroll Gardens. And on Wednesday night, at a former foundry in Long Island City, the conclave gathered once again. The old gang was here, a colloquy of oddball futurists: Wylie Dufresne, Brooks Headley of Del Posto, Sean Gray, the executive chef of Ko and an emissary of David Chang.
But for now, the museum, dubbed the Museum of Food and Drink (known as MOFAD) still exists only as a puffed grain dream in the minds of Peter Kim, its boyish executive director, and the mixologist Dave Arnold, its founder and president. But, at least as judged by attendance (robust), sponsors (corporate and divers) and audience (Questlove), the dream is inching ever closer toward fruition.
Tickets were $600–up from $300 last year–and the place was sold out. Many of the better heeled attendees had taken cars to deposit them in Long Island City. MOFAD had partnered with, who else, Uber. By 6:45 pm, guests were milling congenially about. Marcus Samuelsson, in a velvet blazer natch, had arrived in support of his employee Nils Noren, a man tasked with creating an Ital-inspired dish. "I have no idea what this is," Mr. Samuelsson said, of the event,  "I'm just here to support my friend."
I walked aimlessly around. People were better dressed than I remembered and better looking, too. On the other hand, I don't get out as much. I ran into my old boss, Ari Horowitz, who used to own BlackBook, Vibe and Uptown magazines. Now he is the executive vice president of an Austin-based company called Tapped Out. "It allows you to pay for your tab on your phone," he said excitedly, "it's going to be huge."  I also ran into another former boss, Gaby Darbyshire, formerly COO of Gawker.com. "I'm doing a lot of things," she said, "but I can't talk about any of them."
The benefit was hosted by Ben Leventhal, the dapper founder of Eater.com, recently sold to VOX, and now co-founder of Resy, a mobile app that allows premium restaurants to auction off their seats and which will launch in June. "It's for people who love great restaurants but hate the hassle of getting into them," he explained.
Taking to the microphone, Mr. Leventhal addressed the audience.  "Ladies and gentlemen," he said,  "the most important things first. The hashtag is #MOFAD and there will be no Cronuts tonight."  (Although Cronut creator Domenique Ansel was on hand for dessert.) After him, a guy from Groupon, one of the evening's sponsors, got up. "We're extremely bullish on this space," he said, referring to…something. Museums? Food? Technology? I looked bullishly to my own space and eagerly awaited "a selection of delicacies inspired by the cuisine of the Goryeo Dynasty" prepared by Amanda Cohen from Dirt Candy.
According to Mr. Kim, the organization, a 501(c)3, needs to raise $25 million dollars to open a bricks-and-mortar 30,000-40,000 square foot museum by 2016. They've got a long way to go. "Our Kickstarter campaign was the most highly funded museum campaign in its history," said Mr. Kim, preparing his remarks in an alcove near the front of the room, "but we only raised $106,000." Now Mr. Kim was turning to wealthy patrons and corporations. "We're doing it very strategically," he said, "we don't want to become the NASCAR of museums." His pitch is simple: "Mofad will be the next great New York cultural institution. Imagine being able to be part of the founding of MOMA or the AMNH? This is your chance."
From his table, one already hooked patron–the diamond heir Claude Arpels — sat with his wife, Winsome, enjoying a "bomb shelter sandwich a la The Day After and Soylent Green." It was, basically, a veggie burger. "I first met Dave," said Mr. Arpels, "while I was a culinary student at the International Culinary Institute. I was in between entrepreneurial projects," he explained.
At another table, Questlove, the Root, was taking time off from the Tonight Show with Jimmy Fallon and penning well thought-out essays about the irrelevancy of hip hop for New York magazine, to pick at his chicken liver spaetzle (part of Wyie Dufresne's riff on The Four Humors) and Instagram prodigiously. "New York needs this institution," he said.
Across the room, another supporter, Glenda Hersch, had bought an entire table and invited, among others, the writer Felix Salmon.  Ms. Hersch, an executive producer of television shows like "Real Housewives of Atlanta" and the forthcoming television movie "Rich People's Problems" , is a passionate foodie. "I just had dinner at Blanca," she said, of Carlo Mirarchi's prixe fixe restaurant in Bushwick. "I was stunned. We had 25 courses," she paused for dramatic effect,  "with wine pairings."  Both Ms. Hersch and Mr. Salmon had high hopes for MoFAD. . "It'll be like the Musee d'Orsay with aromas," said Mr. Salmon, a bit hopefully.