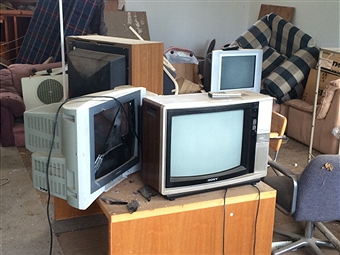 Anyone in the market for brand name gadgets is in luck this week.
DNAinfo reports that J&R, the music and electronics superstore that shuttered last month after more than four decades in business, is auctioning off more than $1 million worth of merchandise.
The sale is being held Tuesday and Wednesday at the former J&R store at 1 Park Row. Doors open at 9:30 a.m. and the auction starts at 11:30 a.m.
ASM Auctioneers, which is handling sales,promises that the newest computers, cameras and TVs, among other appliances, will be available from brands like Samsung and Nikon. There will also be more obscure non-electronic items, like "4500 Licensed N.Y. Yankees Umbrellas."
This is the first event at the space since owners Joe and Rachelle Friedman closed the store on April 9. The couple said in a statement that a renovated, redeveloped J&R would open in 2015; a rendering on the store website shows a six-floor setup.
Until then, New Yorkers will have to brush up on their bartering skills if they want J&R merchandise.