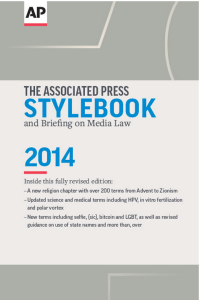 The Associated Press Stylebook is mainly a utilitarian guide used by the news service and the many publications that follow its lead. However, as today's release of the 2014 version shows, it can serve as more than just a language tool. The annual updates to the Stylebook act as a lens through which to view our evolving culture.
Whether it is food, social media or religion, the guide reveals today's trends and news by codifying the language we use to discuss them. The additions to what is a bible for many a copyeditor provide insight into what people are talking, thinking and writing about.
The most notable change this year is the book's entirely new chapter on religion. The chapter has more than — or over, as a new, controversial rule made the the two interchangeable — 200 additional or revised terms from a variety of western and nonwestern religions.
As the guide notes, these additions and changes correspond with a shifting religious landscape. As a plurality of religions is becoming more familiar to the general population (aka readers), the media has used many of these terms more frequently. Here are some of the updates we found most notable:
Megachurch: A Protestant church with 2,000 or more weekly attendees, which are growing in both size and number and have fallen under media scrutiny for their financial practices.
Gurdwara: A Sikh place of worship that houses scriptures. This points to an increased interest in, use and knowledge of Sikh terminology, as well as a more general globalization in terms of religious awareness.
Halal: Used to describe foods allowed under Islamic law. Always lowercase. This seems like a slightly late addition — we have been enjoying the Islam-approved gyro and the delicious white sauce from The Halal Guys for years.
New phrases added to the food section point to the diet, drink and pastry trends sweeping the nation.
Chobani: American Greek yogurt. Yogurt, now the official snack of New York State, has basically taken over the dairy aisle, and Greek Yogurt is especially popular. Perhaps fittingly the brand Chobani was added to the book.
Vegan vs. Vegetarian: The distinction between vegan and vegetarian was also clarified, though probably a bit late considering these restrictions have long complicated our dinner party menus. We are still waiting to learn the exact details of "gluten-free."
Mixologist: A person who specializes in crafting high end cocktails, perhaps referring to fellow new terms, caipirinha and angostura bitters. Who knew the AP had so much fun?
Macaron vs. macaroon: The guide differentiated the two, so no more confusing a chic Ladurée confection with a still delicious, but less fashionable, Passover cookie. The AP also threw in a nod to the Italians, adding amaretti and clarifying their almond, rather than coconut, base.
Social media terms have also added, and the descriptions act as a handy reference for old-school journalists who have managed to avoid spending their days staring at Tweetdeck.
Emoji: Symbols used on mobile devices instead of words in texts and social media. While they mention the cartoon faces, hand gestures, food and animals, we are disappointed that they fail to specifically mention the more bizarre roasted sweet potato, Japanese house plant and bloody vaccine.
Snapchat: A messaging app allowing users to capture and send photos and video clips for a short period of time, with the ability to add illustrations and text. No mention of the related drunk-snap.
Selfie: A self-portrait often taken with a phone or webcam and shared over social media. "Self-portrait" is a very dignified way to refer to Kim Kardashian's duck face.
The sports section of the guide included some changes.
Soccer: Just in time for the World Cup, the guide finally acknowledged that, internationally, football is the preferred term for soccer — not to disappoint the few Americans who follow the sport.
Johnny Manziel and Jadeveon Clowney: The guide did not leave out American football altogether, including these NFL draft picks. Sports journalists thankfully must no longer have to guess how to spell these tongue-tiers.
The additions also point to this year's biggest players in pop culture and politics.
 Lupita Nyong'o: We are glad to see the AP is up on pop culture, as it seems this actress has become the obsession of every magazine, designer and style reporter.
Sara Bareilles: She may not have written them a love song, but whatever she wrote was popular enough to land her a spot in the style bible.
Louis C.K.: Louie, Louie, Louieee. 
 Idina Menzel: While it is nice for her to be recognized, even though it's sadly too late to help John Travolta.
New Jersey Politicians: There's always time for some traffic problems. Additions include David Wildstein, the former Port Authority official implicated in the lane closing, John Wisniewski, a New Jersey assemblyman skeptical of the closure, and Mark Sokolich, the mayor of Fort Lee.
And then there are the grammar rules. But we'll leave those for the copyeditors to discuss over cocktails, perhaps prepared by a mixologist.