"It's like Blade Runner here," Art Basel Director Marc Spiegler said last week, on the eve of the four-day annual Hong Kong Art Fair that Art Basel bought a controlling interest in three years ago. He had taken a 1 a.m. flight from New York after the Frieze New York fair the previous weekend. One can scale most of the city by elevated walkways that near-seamlessly elide alleyways crammed with competing booths, marble-coated malls and the convention center halls. But perhaps the narrow alleys of Hong Kong best echoed art dealers' cutthroat competition for the attentions of Chinese collectors. Art Basel in Hong Kong—this was the second edition of the fair, which consists of 235 international art galleries, under the Art Basel banner—is an ever more important theater not just for selling art but also for establishing relationships.
On Monday night, Mary Sabbatino of Galerie Lelong went almost straight to the Asia Society's gala dinner from a New York-Hong Kong flight on which dealers occupied half the business class seats.
"I'm glad I wasn't on that plane," another New York dealer, James Cohan, said. He'd flown in from Shanghai, where his gallery has a branch. During dinner, honoree Takashi Murakami's made an acceptance speech concerning "the market condition," charging that all involved are zombies.
"What is a zombie?" the artist asked rhetorically. "A human dies and continues to move afresh. The art world today is a world full of such zombies."
Who are these zombies, the Observer asked Mr. Murakami after his speech. He pointed to himself. "Me!" he exclaimed, then elaborated: "Everyone in the business."
Those dealers left New York just before art market history was made: On Tuesday night, Christie's Rockefeller Center salesroom set a record for the most expensive contemporary art auction ever, $745 million, citing aggressive buying from Asia. Would the art-hungry arrive in Hong Kong?
"I don't know who's coming!" Pearl Lam said at Tuesday's night opening of Su Xiaobai's paintings at her gallery in the Pedder Building. The evening saw a whirlwind of openings at galleries with outposts in the city, like Gagosian, White Cube, Perrotin and Lehmann Maupin.
Pace, which has operated a large gallery in Beijing since 2008, inaugurated a comparatively tiny space in Hong Kong's Entertainment Building, showing works by Zhang Xiaogang.
With Beijing, "we came for the art scene, and then we saw what was happening," said Pace Director Joe Baptista. The Hong Kong space serves as more of "a comfortable meeting ground," he said.
Since Art Basel's appearance in the region, dealers have turned more definitively away from doing business in Mainland China. High import taxes—around 35 percent—dissuade would-be buyers from homegrown fairs like SH Contemporary, which did not happen last year. Serious Chinese collectors often opt for storage in Hong Kong. As one Shanghai dealer put it, if you've already shelled out for Hong Kong storage for 40 works, then what's buying 10 more at Basel? Cue the flood of dealers.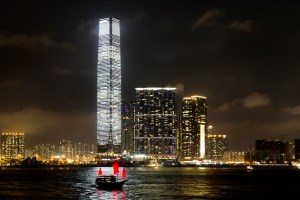 Collectors from Switzerland to Texas nibbled on pork on lemongrass skewers in the V.I.P. lounge during the fair's V.I.P. opening on Wednesday, the citywide awareness of which was signaled the next night by Carsten Nicolai's piece α (alpha) pulse, sending a steady beat of light along Hong Kong's highest tower. (It seems Art Basel Hong Kong is now firmly on the map here. "At least people know how to pronounce it this year." American artist Hernan Bas observed. He remembered living in Miami when Art Basel first landed there 12 years ago. "People thought Art Basel was a person.") Major Western collectors of contemporary Asian art like the Rubells may have been absent, having opted for the New York auctions, but China's mega collectors were out in force.
To Yang Bin, the car-dealing tycoon, the fair gets "better and better." One of the richest men in China, Yang struggled to get a coffee amid the crowd at the bar. K11 founder Adrian Cheng and Yuz Museum founder Budi Tek were close by, and Zhao Qibing, who displays his art in megaplex karaoke palaces, and Sifang Museum founder Lu Xun later roamed Art Basel's aisles.
Anyone looking for more resonances between New York and Hong Kong could find them at the David Zwirner booth. While Oscar Murillo's chocolate factory—a.k.a. his first full-scale New York gallery exhibition—churned out candy back at Zwirner's Chelsea H.Q., the Asian market snapped up half of the six paintings by him on offer at the fair.
"We based the booth around Oscar," Zwirner's London director, Angela Choon, said, with the express mission of introducing the artist to this market. One painting went to a collection in Mainland China, one stayed in Hong Kong, and one went to the Asia Pacific region.
Other mega galleries were also doing business with collectors from the region. Hauser & Wirth reported sales in the six figures to Chinese private collections, and Gagosian, too, reported sales to China.
"There were definitely more new collectors this year," said Hong Kong collector Adrian Cheng, who bought 15 works on V.I.P. day. "I usually recognize all the collectors, but these are people coming from second- and third-tier cities in China"—cities like Wuhan, Chongqing, Chengdu and Qingdao.
That might be attributable to a boom in luxury developments, said Freeman Lau, the founder of KL&K Design, a consultancy based in Hong Kong, Beijing and Shenzhen that works with Chinese projects on brand identity and space design. "There are still a lot of hotels, office buildings, developments not just looking for content but something that fits the needs of the project," he said. He mentioned a conceptual work he saw at the fair, in which the artist had documented the size of prison cells around the world. "I like that," he said, "but can you imagine it in a hotel?"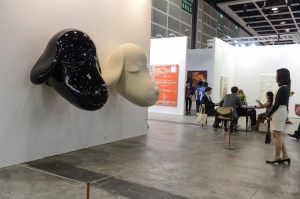 A number of collectors wielded briefcases. Cash offers abound at the fair, according to local artist Simon Birch,given the financial incentive to turn around large sums of Chinese RMB into dollars or euros through artworks, once sold abroad.
At the booth of Los Angeles-, New York- and Tokyo-based gallery Blum & Poe, which had Asian collecting staples (Murakamis, Naras and a Zhu Jinshi), a Chinese collector was trying to buy a work for $50,000.
"What am I going to do with that? They cannot pay in cash," gallery co-founder Jeffrey Poe told an associate. "I don't want any of that renminbi."