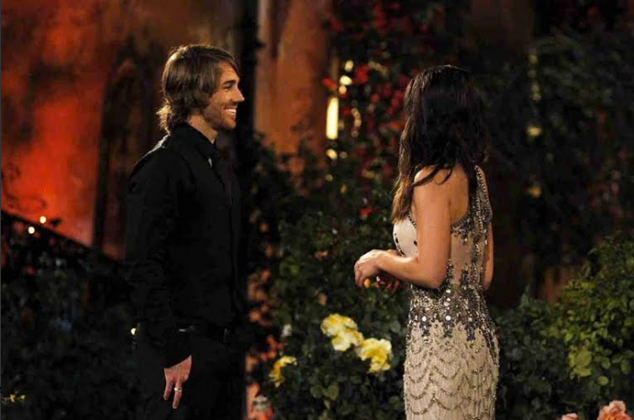 The Bachelorette is so good, it's frustrating that we have to cap it off at a measly two hours per week. That's why each Tuesday, we'll be having a Bachelorette morning after rose ceremony to celebrate the people, places and moments that really made the previous night's episode shine.
A rose to Andi Dorfman, for being part of the show's scary American Beauty homage title card and for holding the honor of perhaps the smuggest Bachelorette intro ever. "I don't know what I did to deserve 25 men wanting to fly across the country and meet me." We see you, Andi. This rose is also for being the type of girl who unironically posts that Marilyn Monroe quote about not deserving her at her best if you can't handle her at her worst on her Instagram feed.
A rose to the guy who has to open the limo door for all of these basic bros.
A rose to the ground outside the mansion for not being as inexplicably wet as it usually is. For some reason it's usually coated in water that gently — and stressfully — laps at the hem of the Bachelorette's evening gown.
A rose to Emil for the worst intro line in the history of the Bachelor/Bachelorette franchise: "You want to know my name? It's Emil — 'anal' with an M."
A runner-up rose to Jason, the emergency room doctor, for the second-most painful intro line of the night: "I've learned a lot of skills being a doctor. One of those is that I can make a diagnosis just by looking at somebody. I think that you have a fever because you look pretty hot. Seriously, joking aside, you look great."
A rose to the "pantsapreneur" for referring to the show as a "love quest," giving Andi pants and sweating his way through every talking head interview. Hopefully he has more breathable pants stowed away somewhere.
A rose to Steve, the "snowboard product developer," for looking like every boy in our high school graduating class at prom.
A rose to the eliminated attorney Rudie for constantly reminding Andi of work with "law jokes" during the five minutes that he got to talk to her. That girl took down her diploma, she does not want to think about work right now.
A rose to Carl the firefighter, for being tall and our pick to win (or at least final three).
A rose to the former pro baseball player who smarms at Andi "You're the total package that I can see, thus far," and we're taking the rose back from Andi, who loves it.
A rose to Marquel for likely making the producers of The Bachelor extremely uncomfortable with the "black and white cookie" interlude in his cookie tasting. Is Marquel a mole sent to draw the viewing audience's attention to the pervasive whiteness of the franchise at every available opportunity? If so, infinite roses to him.
Also getting infinite roses is Chris Bukowski from Emily Maynard's season, famous for constantly getting in fights with bros where he screamed about being "a grown ass man" and further embarrassing himself on season two of Bachelor Pad. He shows up at the mansion, INFURIATING a security guard, demanding the chance to woo Andi. She wisely passes, he refuses to leave and Harrison has to talk him off the ledge.
A rose, therefore, to Chris Harrison, for working harder than he has at any point in the last five years during his attempts to get madman Chris Bukowski to leave the set with no further drama. "If you really respect her, you'll respect her wishes… There's no choice. The only thing that happens from here is it gets bad." OKAY CHRIS. What are you really going to do — punch him? Doom him to an eternity of watching Bachelor Pad reruns?? We'll never find out, because Chris Bukowski finally agrees to leave. Bye.
A rose to Patrick the advertisting executive and Andrew the social media marketer falling in love and deciding that they are a cut above the rest. "Patrick and I actually get along pretty well – guy dresses well, he's pretty suave. I feel like we have a lot in common," Andrew says of Patrick. "I feel as if Andrew and I are a little bit on a different level than some of the other guys. He's definitely more of my caliber kind of guy," Patrick says of Andrew. We sure hope nothing happens to tear this union asunder!
Okay Andi, you can get your rose back for valiantly pretending to be remotely interested in soybean farming in northeastern Iowa. "I love that type of lifestyle," she tells Chris the farmer. "I like a city life but I also like outdoor space and scenery." Andi had better really like "scenery," because this guy runs a fourth-generation farming operation and Andi no longer has a job, so something tells us she'll have a hard time convincing him to move to Atlanta.
A rose to Nick V., the software salesman, for getting the first impression rose basically for being a total dork and raising the blood pressure of all of the other alpha dudes in the house.
A rose to the word 'y'all,' which Andi uses more times in a single episode than all other Bachelorettes have used any other word in all other seasons combined — perhaps even more than "vulnerable." Our theory: Andi's conversations last season with Juan Pablo were so one-dimensional, she's trying extra hard to show her personality now.
A rose to everyone with long hair who was summarily kicked to the curb at the end of the premiere, including the urgent care physician who borrowed Rachel Duncan's lace front from Orphan Black. Here's hoping they hit the bars with Chris afterward.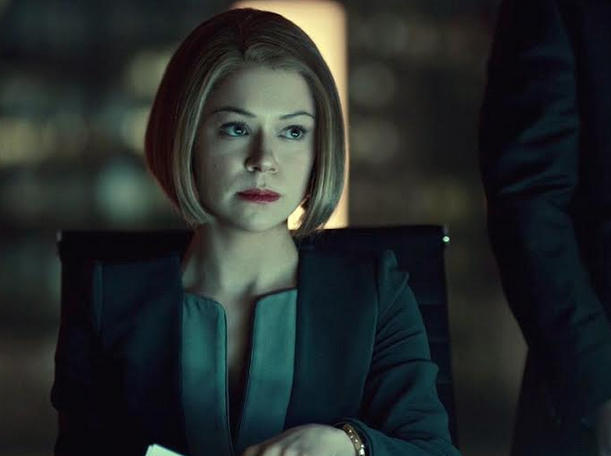 Yet another rose to long-haired Jason, the Orphan Black doppelganger, because his parting speech was really sad and we're fearful he's about to slip into an irreversible state of misery. "I don't know what's next. Honestly. Not going back to a whole lot," he says. Er, okay.
And a rose to the eliminated telecommunications marketer for exhibiting the greatest range of emotions in a single minute by any human being on earth:
"I'm super disappointed, honestly, because I'm here talking to you instead of being up there with all these guys! You come here looking for a wife and all of a sudden you hear these guys 'cheers'-ing in here…I  don't… Whatever, it's embarrassing, is what it is. This was something that a friend put me up to and I showed up and said, 'Oh, this is great, sure, let's give it a try, let's embarrass the fuck out of myself for one night to do absolutely nothing, to accomplish nothing,' and I'm gonna call my parents tomorrow and be like, 'Yeah, that sucked. I'm coming home.' I'm gonna face reality, be embarrassed as fuck – cool. It is what it is. I'm gonna go home, enjoy myself, take some vacations. This is stupid."
It'll be okay, bro! Bachelor Pad comes back this summer.