There is fight brewing on Bedford Avenue that's cutting straight through the heart of Williamsburg.
The relationship between the street's business owners — some of whom have been there for decades — and the street's sidewalk vendors has become increasingly frayed as gentrification is forcing both to fight harder for the right to sell in the new Brooklyn.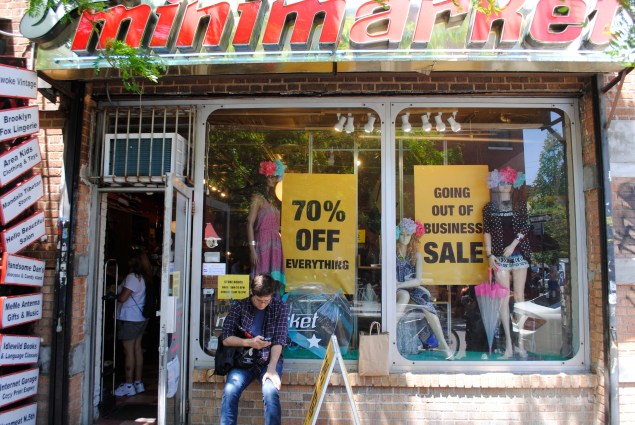 The sidewalk tables from which people sell their art, jewelry, books, t-shirts and collectibles are nothing new to the Bedford scene. But more and more storeowners are starting to complain that their presence is intrusive, as they have to compete for customers attention.
Dana Schwister, a Williamsburg resident, is the owner of Mini Mini Market— a small clothing and jewelry store which after 14 years is going out of business. It had been the neighborhood's oldest boutique.
"There are a lot of things that I don't like about the vendors," said Ms. Schwister. "They don't pay rent, they don't pay sales taxes. And the street gets really crowded on the weekend and now people can't pass by," she said, looking out the window, where two crowded tables were selling jewelry and hats.
We asked the obvious question: Did she think the vendors were part of the reason she had to close?
"Oh, surely," she said. "They can sell things cheaper because they're not paying rent or taxes. That's why we're closing — the rent has nearly doubled."
It's an all too common scenario in the neighborhood, and precisely the reason street vendors have flourished. Though technically illegal (vendors are expected to get a permit and tax ID) anyone with a product and a table can sell to the masses and not incur any costs. Cops in the area are notorious for turning a blind eye.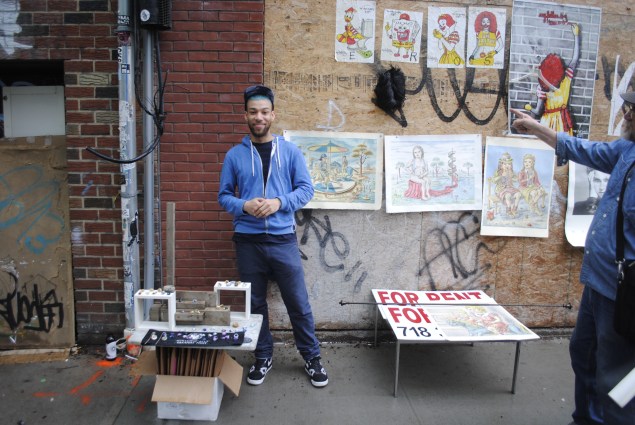 "I can't afford to have my own business, not yet at least. That's why I'm here," said Randy Moreno, a Bushwick resident and jewelry designer who has set up shop without a license.
"The cops are actually pretty cool about it. A few times they've passed by and even checked out the merchandise," said Mr. Moreno.
Carlo Scissura, the President and CEO of the Brooklyn Chamber of Commerce, says everyone should play fair.
"We believe in everybody's right to start a small business here, but everyone has to play by the same rules to ensure our neighborhood establishments are not put at a disadvantage," he said in an email.
Chelsea Munoz, the manager of The Stone Flower, a women's clothing boutique, and resident of SoHo (another place where street vendors set up dominion), doesn't see Mr. Scissura's words put into action.
"I see how much my legal work my boss has to put into this store, and it's frustrating that they [the vendors] can get away without having to worry about anything. I think the police should be cracking down on them," she said.
The street vendors maintain they're doing the neighborhood — and it's establishments — a great service.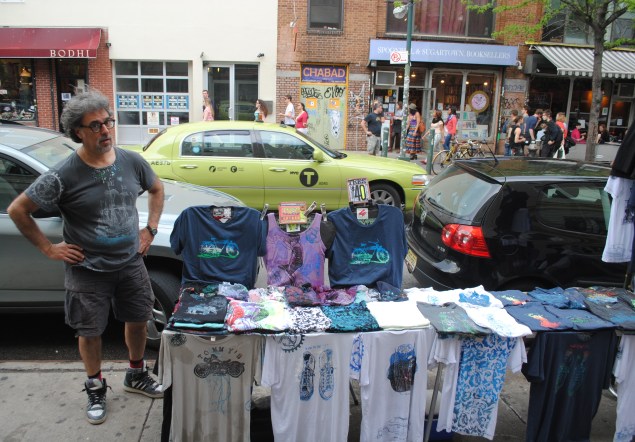 Tom Hart, who lives in Fort Greene and sells his "Tommy Tees" t-shirts in Williamsburg and SoHo, thinks street vendors like him help business.
"We welcome people into the area, and then they go into the stores," he said. "As long as you're not set up selling the same thing in front of the store, it should be allowed."
Mona Sedgwick, who has lived in Williamsburg for 20 years, values the street vendors.
"They're what New York is all about—making it on the streets. If I can buy something from a designer trying to make a name for himself I'm going to do that rather than go into Brooklyn Industries," she said, referencing the popular clothing store across the street.
It appears she's not the only one. On any given weekend when the weather is nice, people will cluster around the sidewalk tables and meander their way down the avenue, bringing to mind that oft-tossed around phrase "outdoor mall."
"This is awesome. This is how it should be," said Steven Nguyen, a street vendor and Queens resident. "Stores are just blaming us [the vendors] for the bad economy."
People were lined up to inspect his collection of iPhone cases and figurines with frenzied energy. Many made purchases.
"This is what the people want — cheap and beautiful things at their fingertips," he said while collecting cash from a group of women. "If a store owner has a problem with it they can come talk to me."