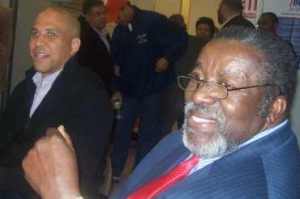 Flip a coin, the insider told PolitickerNJ when asked for his opinion on the Bayonne mayor's race.
"But there's blood in the water," he added grumpily, a reference to incumbent Mayor Mark Smith, who wants to fend off challenger Jimmy Davis in the June 10th runoff.
Below is a look at some other better known runoff elections and the eventual outcomes…
In 1989, running to regain the seat he lost to Anthony Cucci in 1985, Jersey City Mayor Gerald McCann looked beatable heading into a runoff election against challenger Glenn Cunningham. Cucci was the odd man out. But McCann got the edge on Cunningham in the mad race for endorsements, and on Election Day received 30,169 votes to 24,249 for Cunningham.
In 1997, incumbent Mayor Bret Schundler of Jersey City survived a three way contest and made it into the runoff against challenger Jerry Healy, a local judge. Amid blood-in-the-water rumbling, Schundler defeated Healy convincingly in their head-to-head.
In 2001, Schundler didn't run again, spawning a field of candidates that included the two men who ultimately made the runoff election: Cunningham and Tom DeGise. That contest hinged on the third man in the race, Lou Manzo, who cut the deal with Cunningham, catapulting the Marine and former U.S. Marshal into City Hall.
In 2006, running in a three-way contest, incumbent Mayor Joe Doria of Bayonne scraped by challenger Pat Conaghan. Both men ended up in a runoff with Doria looking wounded but outhustling his rival and actually ultimately turning out more votes in the runoff than in the original election, winning with over 53%.
In 2009, incumbent Hoboken Mayor Dave Roberts decided not to run again. Six candidates ran to succeed him, with just Peter Cammarano and Dawn Zimmer making the June runoff. Zimmer was the top vote-getter with 36.19, Cammarano next with 34.07. The contest's third place finisher, Councilwoman Beth Mason (23.33% of the vote), backed Zimmer, who lost to Cammarano by 161 votes in the runoff election.
In 2010, Newark Central Ward Councilman Charles Bell made the runoff election looking very convincing with a double-digit lead over challenger Darrin Sharif. Backed by North Ward Organization leader Steve Aduato, Sr. and Mayor Cory Booker, Bell appeared in good shape in the matchup with Sharif, son of South Ward-based political operative Carl Sharif. Bell was overconfident in the runoff, as Sharif went negative early and often to snip the incumbent councilman out of office by fewer than 20 votes.
In 2014, incumbent Bayonne Mayor Mark Smith made it into a runoff with challenger Jimmy Davis…