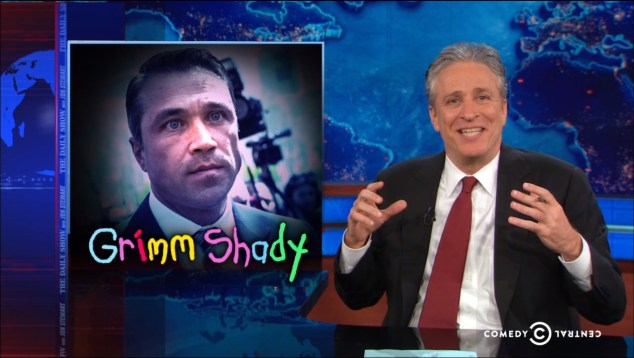 The Daily Show, which previously tore into Congressman Michael Grimm for threatening to throw a NY1 reporter off a balcony, returned to the topic of the embattled Staten Island Republican last night following his indictment.
Host Jon Stewart was particularly amused by the "Healthalicious" restaurant at the heart of Mr. Grimm's 20-count indictment, which was unsealed Monday and includes a host of tax fraud and perjury charges. Mr. Grimm has denied all wrongdoing.
"This is classic, classic Northeastern corruption. I'm telling you: You got your hot-headed public official, massive bust by the feds, all it's missing is shady backroom dealings in a dank restaurant," said Mr. Stewart.
After a lengthy pause, a baffled Mr. Stewart continued.
"So is this what Northeast corruption has come to?" he asked. "Closing bridge lanes and skimming a little off the top of a broccoli and lentil joint?"
View the full segment below:
[protected-iframe id="2119eb6143563928e72894a0adbe0912-35584880-35146502″ info="http://media.mtvnservices.com/embed/mgid:arc:video:thedailyshow.com:48d7cc2d-d17e-4185-b8ef-ad13e39fabb9″ width="512″ height="288″ frameborder="0″]