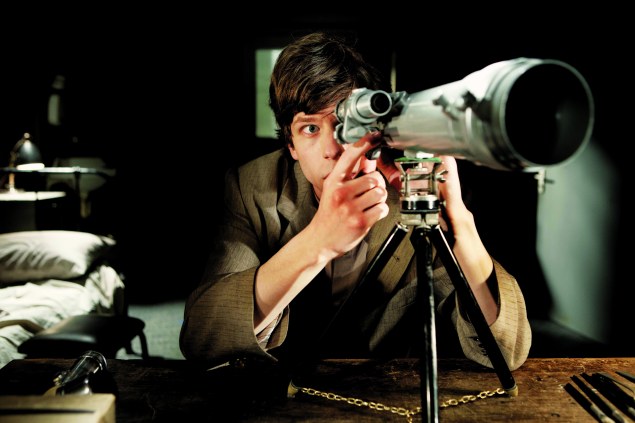 Another eccentric example of style over content, The Double stars creepy Jesse Eisenberg in two roles, when one is always more than enough. The further away he gets from the obnoxious Mark Zuckerberg in The Social Network, the more he plays every role the same way: neurotically ticking away, grinning dementedly and shaking like a leaf. The Double is a dark, delusional adaptation of Dostoevsky's novella of the same title, but it's a far cry from anything resembling the existential form and substance of the source material that inspired it, mainly because young Mr. Eisenberg plays it less like a self-destructive Franz Kafka than a self-conscious Henry Aldrich.
---

The Double ★
(2 stars)

Written by: Richard Ayoade and Avi Korine
Directed by: Richard Ayoade
Starring: Jesse Eisenberg, Mia Wasikowska and Wallace Shawn
Running time: 93 min.

---
Set in a futuristic society of noirish government zombies slaving away in bleak bureaucratic bunkers for offices, it's more a satire of Godard's Alphaville than a menace designed for the Syfy channel. As a worker drone in an ill-fitting gray suit who works in a characterless hive of little gray cubicles that exist for some bleak, undetermined purpose, a man named Simon James is a meek, mild-mannered milquetoast who is regarded by everyone he meets as cellophane. Simon gives new urgency to the word nebbish. Peering over the corner of his sleeve at the camera, he's a sylph who has ceased to have any value as a human being. Even in the building where he works, the security guard gives him a hard time. Overlooked, ignored and underrated by his boss (Wallace Shawn) and rejected by the only girl (Mia Wasikowska) he fancies, nothing works in his favor. Even the elevator doors close in his face.  
One morning on the subway, Simon James is approached by James Simon, an astounding look-alike who rudely demands his seat, claiming it as his own. At the office, they seem to be the same man, but they are actually polar opposites. Simon is a cipher—rigid, passive, nondescript—while James is aggressive, assertive and a forceful personality who gets exactly what he wants whenever he demands it. The two become inseparable. James becomes Simon's role model, while Simon turns into Pinocchio. "I'm like a wooden boy, and it kills me," he says, as James takes over. Reduced to hysterics, Simon tries to get his identity back but finds he has been erased from the system. Director Richard Ayoade (Submarine), too heavily influenced by the surreal imagination of Terry Gilliam, can't figure out where to go from here, so the movie collapses midway and never recovers.
A dumb show annihilated on the electric wire of pretentiousness, The Double recalls too many similar movies for its own good (most recently, Denis Villeneuve's fatal doppelganger flop Enemy, with Jake Gyllenhaal as a disheveled history professor named Adam, who spots his double, an actor named Anthony, on a movie screen). Identity crisis is a tired cinematic subgenre requiring the kind of dynamic charisma a novice like Jesse Eisenberg cannot achieve. Driven to madness, he just seems uncertain about what kind of sandwich to choose for lunch. Arresting cinematography by Erik Alexander Wilson does provide a visual ambience that is often haunting and hypnotic, but unless it builds an inexplicable cult following, The Double appears commercially risky in every viable market I can think of. Color it doomed.