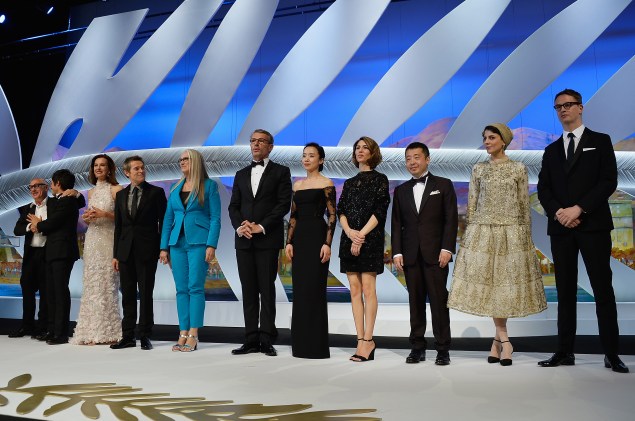 CANNES, France — The opening night ceremonies here in Cannes are usually a giddy mix of formal pageantry and goofball shenanigans, and this year did not disappoint. After a poised and eloquent tribute to recently departed auteur Alain Resnais, master of ceremonies Lambert Wilson not only jumped off the stage and into the seated crowd to salsa dance with Nicole Kidman, but also goaded 2,300 black-tie attendees into singing "Happy Birthday" for Grace of Monaco co-star Tim Roth and festival juror Sofia Coppola (both born on May 14).
Amid the glittering antics, though, jury president Jane Campion paid a pointed tribute of her own. "Cannes really celebrates authorship, films with a unique vision with their own personal voice," she said. "It really appreciates the brave and the original—and sometimes even women filmmakers. Had to get that one in!" As the sole female director in 67 years to have ever won the Palme d'Or, Cannes' coveted top prize, she knows a little something about underrepresentation.
But the sad truth, as Cannes topper Thierry Fremaux pointed out a few days before, is that only seven percent of all films submitted for consideration were directed by women. And, by that measure, Cannes is downright progressive: 20 percent of this year's selections throughout the festival are from female filmmakers.
For the second year in a row, actually, the sidebar program Un Certain Regard opened with women-driven productions. In 2013, Coppola's The Bling Ring kicked off the festivities, and now this year Party Girl (directed by the lady duo Marie Amachoukeli and Claire Burger, plus token boy Samuel Theis) launched the section. A solid if not inspired drama, Party Girl follows the exploits of a long-in-the-tooth stripper with four grown kids who flirts with settling down and getting married. Surprisingly poignant in fits and starts, and bravely unrepentant towards the heroine's dubious choices, the drama is downright feminist in how it dignifies a train wreck.
The competition section, still a sausage fest of auteurs (only two women directors are represented) has kicked off the proceedings with vigor. Abderrahmane Sissako's Timbuktu delivers a ripped-from-the-headlines tale of innocents brutalized by thuggish, gun-toting Sharia Law enforcers who bully their way through the fabric of a local community. Inspired by 2012's Jihadist takeover of northern Mali, Sissako filmed his multinarrative in late 2013 and got it completed just in time for this week's world premiere, giving this film the sort of socio-political urgency for which Cannes is famous (well, famous for that, plus topless beaches).
Its final image—of a young girl running for her life away from militant fanatics hell-bent on hunting her down—couldn't be a more apt or haunting image for feminists looking to condemn cinema's naggingly patriarchal industry.