The eighth annual Dance Parade took place this Saturday, teaching us valuable lessons on culture, the arts and the fact that many New Yorkers are horrible at dancing.
The parade, which included upwards of 9,000 folks, winded through the streets from 21st and Broadway in Flatiron all the way down to Tompkins Square Park in the heart of the East Village. Over 70 different dance styles were featured, ranging from the traditional Native American stomp to a contemporary hip-hop shoulder lean. The sun was out and tourists and locals alike flocked to the streets to ogle at the array of groovy dance moves.
However, not everyone can be Tony Manero.  Delve with us into a video journey of the parade that will involve hip shaking, fist pumping and the open mocking of those much younger than us. But hey, if you can make it in New York, right?
 You don't just throw on your finest green sweater vest-pink shirt combo and not bust out this seductive move (which clearly worked). That would just be embarrassing.
Even the camera can't decide what is horrifying enough to zoom in on.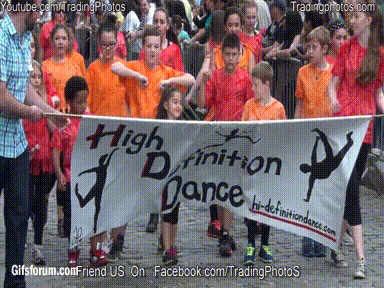 A quick look at High Definition Dance's website yielded this quote, "All of our students are encouraged to explore their unique individuality through movement." Spastic, spastic movement.
The predecessor to the Bernie?
This kid kills it at middle school dances.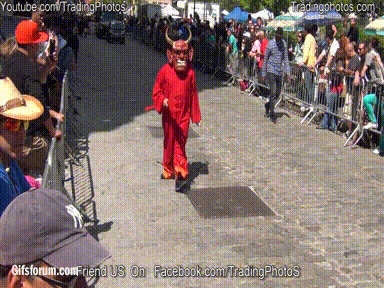 "More like Sympathy From the Devil–sympathy for your wack-ass dance moves," said uninterested Satan.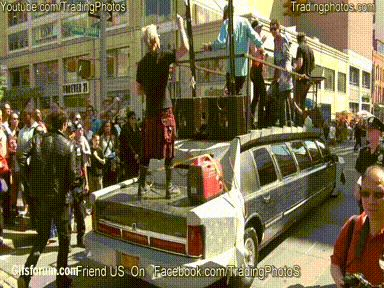 Turn around, cameraman in the corner, you're missing grown men embarrassing themselves!
Watching these moves, we are guessing his agent is this guy.
Last but not least, this, uh, thing. He is like Santa at the end of the Macy's Parade, if Jolly Old Saint Nick had a green beard, wore a dress and was surrounded by scantily clad women. As he should be. Get on that, De Blasio!