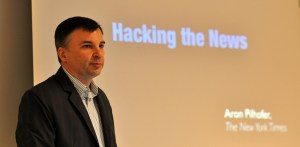 The Guardian has hired Aron Pilhofer for the newly created position of executive editor of digital, Janine Gibson, the website's incoming editor in chief, announced early this afternoon. Mr. Pilhofer comes from the Times, where he is currently the associate managing editor for digital strategy.
"When we began talking in March, it was immediately apparent that Aron would bring the right combination of passion, ambition and skill to the Guardian," Ms. Gibson said. "He is a terrifically talented and visionary editor who clearly understands the future of digital journalism and we're delighted he is joining our team."
In his new role, Mr. Pilhofer "will work across the Guardian's editorial teams to develop and execute new and innovative digital journalism initiatives and tools to help grow global audiences and deepen reader engagement" to help "drive the Guardian's digital transformation."
The announcement comes at a time of increased scrutiny of the Times digital strategy and Ms. Gibson's role in Jill Abramson's ouster as executive editor last week. Over the weekend, reports emerged that Times publisher Arthur Sulzberger's decision to replace Ms. Abramson was (at least partially) influenced by her attempt to hire Ms. Gibson as co-managing editor. Ms. Abramson reportedly misled both Mr. Sulzberger and Times CEO Mark Thompson by telling them that she had the support of then-managing editor Dean Baquet. She did not and Mr. Baquet has now replaced Ms. Abramson as executive editor.
That, like every other detail in the Abramson firing debacle, has been a source of debate.
In the wake of Ms. Abramson's termination last week, a 96-page internal report on The New York Times's digital innovation strategy was leaked and posted by BuzzFeed.
The first person quoted in the report was Ms. Gibson.