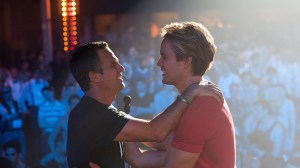 The Normal Heart starts like any other disaster movie—situation normal until it's very f'd up. The long-awaited film adaptation of Larry Kramer's searing play of love and loss in the time of AIDS, made by Glee and American Horror Story creator Ryan Murphy aired on HBO and, while not perfect, it is definitely worth watching.
The film begins in 1981, at the start of the summer season on Fire Island. There's a bacchanalian party, one man's persistent cough and a few inexplicable sarcomas that won't go away. Then, rising like the monster in Cloverfield, the disease moves from man to man, decimating an entire generation in its wake.
As the "gay cancer" spreads, perplexing the medical and gay communities, Ned Weeks (Mark Ruffalo), an activist and writer, who draws much from Kramer's biography, meets with Dr. Emma Brookner (a poorly cast Julia Roberts), a doctor paralyzed by polio—another virus that was defeated by science—who lights a fire under Ned's feet. When Weeks' friend (played by Looking star Jonathan Groff) collapses, frothing at the mouth, seizing and dying, the fire catches.
Dr. Brookner suspects the "cancer" is sexually transmitted and she wants Weeks to help spread the word in the gay community. "Where's this big mouth I hear you've got?" she asks him. "Is a big mouth a symptom?" he retorts. "No," she says. "It's the cure."
Weeks soon puts his big mouth to work, hoping to bully New York City, the White House, anyone, into helping stop the spread of the still-unnamed disease that is laying waste to his community. When he realizes that no one will help them, he fights harder, confounded by the Kafkaesque inadequacy of the government, as absent as the entire population in 28 Days Later. He helps found the Gay Men's Health Crisis group, begging for change on the streets to fund research, all in between memorial services. "We're losing an entire generation, young men at their beginning, just gone," said Tommy Boatwright (Jim Parsons), delivering a eulogy at yet another memorial service. Tommy collects the Rolodex cards of his friends who have died of the virus, and they stack up quickly, multiplying over the course of the film as a visual reminder of the virus' body count.
In many ways, The Normal Heart is a horror story—bodies fall at a vicious clip, felled by an invisible assailant on garbage-strewn streets. It's like they are battling Predator with no weapons, but their voices. The intensity of the horror is compounded by the fact that no one is coming to help. While in Cloverfield, the military quickly moves in to isolate the monster, in The Normal Heart, the victims fight alone, while the world watches. It's the true story behind The Running Man, but there is no winner who goes back to his family.
As his friends die around him, Weeks wages war against everyone, even attempting to out Mayor Koch in the hopes of forcing his hand to fund research or an awareness campaign. "I'm trying to understand why nobody gives a shit that we're dying!" he roars at his brother (played by Alfred Molina). Every few minutes another dying body shows up at Weeks' door, another man carries his partner over the hospital's threshold one final time where nurses refuse to touch the men felled by the mysterious disease. It's intense and claustrophobic, made even more so by the fact that it's all based on a too recent history, ripped from the headlines of the memorable past, telling the story of a generation of men that is gone, leaving a gasping hole in their wake.
Weeks' war becomes even more personal when he falls in love with New York Times reporter Felix Turner (Matt Bomer), who Weeks conscripts into battle, before he succumbs to the diseases let in by the awful virus. While Turner's big reveal of his disease was easy to predict, it was no less harrowing to watch. Even though it was obvious, when he peeled off his shoe and showed Weeks the sarcoma that appeared on his foot—a centimeter-wide death sentence—it was hard not to gasp in horror.
The film is heavy, but it's easy to forgive Messrs. Kramer and Murphy for it. Mr. Kramer's play debuted in 1985 as the AIDS crisis was tearing through New York's gay community and it's hard to be subtle when alarm bells are ringing. Mr. Murphy's take on the film, with all its frenzied, louring intensity, feels overwhelmingly Dramatic with a capital "D". One scene finds the recently diagnosed Turner staring at a lesion-ridden man on the subway and it feels like a scene out of Jacob's Ladder as if the sick man will sprout horns or lunge at him in the shadows. But it's hard to blame Mr. Murphy for making a darkly grim tale that pulls more from his work on American Horror Story than Glee. Mr. Kramer's play requires it—a subtle, quietly desperate film would not be true to the true horror of the source material. Would you watch a light-hearted film version of Stephen King's The Shining? It's a frightening story meant as a cautionary tale.
Watch at your own risk, but to not watch the film—or more importantly, learn from it—is an even higher risk.
The Normal Heart aired on HBO on Sunday, May 25th.