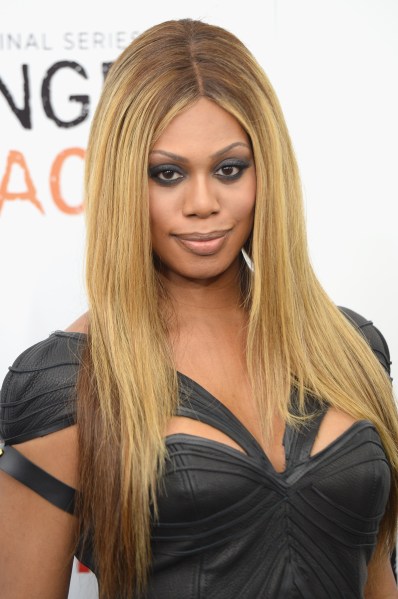 Laverne Cox and I met at Good Stuff Diner in Chelsea last Spring, where she entered in an amazing floor length black dress, fishnets and heels. She'd just come from an event at Soho House for the premiere of Orange is The New Black, one of Netlfix's most popular original series. We sat in a booth and ponder the menu. Miss Cox had a cup of chamomile tea and a salmon club sans bread, but they bring the bread anyway and it's too good to resist.
Although Miss Cox has appeared in numerous independent films and television programs for over the past decade, she's recently become recognized from her role as Sophia Burset, on OITNB, a role that made her Starmeter on Imdb jump into the top 100 most popular actors almost overnight (now pleasantly resting in the top 5000). Receiving recognition from the billboards which one sees just about everywhere in Manhattan and the outer boroughs, she quickly became an audience favorite on the program. She also happens to be transgender woman.
[youtube https://www.youtube.com/watch?v=aLk4OZTWqdc&w=560&h=315]
Many always assume success is an overnight process, but it's never the case. "Overnight" for Miss Cox was actually a time frame of over 15 years, definitely enough time to consider Miss Cox a New Yorker. Pursuing her acting career, Miss Cox had moved to Manhattan for college, and stayed.
"That was always the plan. I realized that as a poor kid from Mobile, Alabama that coming here for school would be the only way I could have some kind of cover to figure out how to survive. It's worked out ok so far. New York City is rough, but I feel it's taken care of me in a strange way."
Miss Cox never considered moving to Los Angeles, as many aspiring performers have to pursue an entertainment career.
"L.A feels like a place I would go for work and then come back to New York.   I am a New Yorker.  It's just that simple." She politely asks for more hot water, laughs and smiles at the waiter. For all we know, he could be a struggling actor himself. Something that Miss Cox remembers very well.
While waiting for her big break she was a hostess at Union Square's popular Coffee Shop, and various other restaurants. Never giving up, no matter how frustrating things became.
"Honestly I had considered giving up several times. A few months before I booked Orange is The New Black I had decided to go to grad school. I love what I do so much, I am extremely passionate about acting and being of service."
Getting through those tough times, Miss Cox had a mantra that's kept her focused, and she continues to use it today.
"The phrase 'stay in the love' reminds me about my deep love for this craft. It has gotten me through many times when I wanted to give up."
In 2008 Miss Cox was chosen to compete on the popular VH1 Show I Want To Work For Diddy. Always with the bigger picture in mind, she used the opportunity to not only get exposure, but to also convey a message. One of her main reasons for appearing on Diddy, was because most of the street harassment she's experienced has been from other black people.
[youtube https://www.youtube.com/watch?v=vlCSkiqwu7Y&w=420&h=315]
"I've been criticized for saying this, but it's my truth. I thought it was important for the audience for that show to see a black rapper and media mogul embracing a trans woman of color on television.  I was hoping it might change things for me and other trans women of color on the streets and in black communities. I never really wanted to be a personal assistant.  I have always wanted to be an actor."
Though things didn't magically change, things were set in motion. If the ever-elusive name changing Diddy was willing to give her a chance, maybe others would follow his lead. Eventually, that began to happen.
"I am proud that there have been other trans folks, specifically trans women of color who've appeared on reality competition shows after me.   There are so many trans people who are reaching for their dreams and that makes me proud and excited."
Miss Cox was eliminated from Diddy after only two episodes. When a fan apologized to her when she didn't "win," her response was quick and firm:
"I did win. I got my own show." Miss Cox's appearance on Diddy, led her to her own program on VH1, not only as a star, but producer as well. TransForm Me, a makeover series, followed three transgender women who traveled in a "Glambulance" to rescue and renovate women who needed change in their lives, physically and emotionally. Although it wasn't renewed for second season, Miss Cox still aspires to get more truthful programming out for and about the trans community.
[youtube https://www.youtube.com/watch?v=Z_HkwNxsR2E]
"I'm very interested in telling trans stories told by real trans people.  I believe in telling humanized trans stories across multiple mediums is an important part of trans liberation.  Even though the many networks we've pitched trans themed show to thought their audiences wouldn't watch, weren't ready we have to keep pushing and finding ways to tell our stories authentically."
When 21-year-old transgender Islan Nettles was brutally murdered in Harlem last year, Miss Cox spoke at her vigil. "I watched Islan's family and members of the LGBT communities stand on that stage and use the incorrect pronouns to refer to Islan and I watched the crowd who turned out en masse to mourn this 21-year-old's senseless murder grimace, cringe and cry out."
As with the recent murder of aspiring reality star, transgender Dominque Newburn in Los Angeles, Nettles' story is one that the media has traditionally pushed aside in the past.
Although Orange is The New Black isn't a reality series, it's made people more aware of the trans community. It's expressed the conflict and exertion on a deeper level than any makeover series or working for Diddy could have ever done. Miss Cox has noticed a shift in awareness from people who may have not understood, or cared to try before.
"I have gotten tweets from people saying they don't really understand the 'transgender thing' but they do a little more.  Folks have written blogs saying they understand trans people differently and accept us more because of the show. That's truly amazing and speaks to the power of the medium of television and of multi-dimensional writing that complicates the humanity of diverse people.  Viva Jenji Kohan!" says Miss Cox taking another sip of her tea.
Miss Cox doesn't hesitate in answering how life has changed since Orange is The New Black premiered on Netflix. "It's changed everything.  It's weird and kind of funny having fans approach me when I am out on a date or when I am with friends.  It's a lot of energy constantly.  I have offers that I didn't have before the show.  I was just happy to be working with such amazing actors, directors and getting to perform such amazing writing.  Being involved in a project that people love this much is something I've dreamed about since I was a kid."
The show was renewed almost immediately after it premiered with stellar ratings. After a week of anticipation, Miss Cox found then out that her character would be returning to the popular prison show. Miss Cox is tight lipped about what will be going on behind bars. Absolutely no spoilers no matter how much I begged.
"I can say that I was shooting the other day and was laughing so hard because the script was so funny and what the other actors were doing was so funny that I almost didn't get through a scene.  Our team is so brilliant. I'm very lucky to be a part of this project."
Miss Cox no longer has to wait tables between auditions. Her appearance on Orange is the New Black has led to many other opportunities. She is still passionate about trans awareness, which hasn't gone un-noticed. She was the first transgender woman to be given the prestigious Stephan F. Kozak award from the GLAAD organization last spring and has been on a national speaking tour of colleges and universities since October. Soon Ms. Cox will not only host, but step behind the camera as she is executive producer for the upcoming MTV series TransTeen. With numerous other projects on the horizon, Ms. Cox will have her plate full for quite some time. Mum's still the word on what's happening this season on Orange is The New Black, but hopefully for us, character Sophia Burset will be in prison for a very, very long time.