Participants opened artist Sebastian Errazuriz's cash filled cow piñata. (Meredith Carey)
On a recent evening in Industry City, the century-old industrial complex in Sunset Park that has lately seen a resurgence of activity, a bizarre site appeared in a tea light-festooned courtyard. Strung up there was a sparkling golden calf piñata, containing more than 1,000 one-dollar bills.
Titled "XX Century Capital," the piñata was opened one hit at a time by attendees of NYCxDesign, marking a splashy finale to the 10-day Brooklyn forum. Events started last week, with design workshops and forums through the weekend. With everything from furniture to decorative cornhole sets on display in the 16-building complex's installation space, the space overflowed with creativity and cash.
The latter has long been in abundance at the 30-acre waterfront complex, which has housed artists' studios for years. Cash, however, has been a more recent focus, ever since Jamestown Properties and its partners bought the complex in 2013, ushering in the transition from low-rent artist studios to design workshops, technology and "maker" industries, with a few food vendors thrown in. At the helm is Industry City CEO Andrew Kimball, who was responsible for turning the long dormant Brooklyn Navy Yard into an economic engine of craft whiskey distilleries and film studios.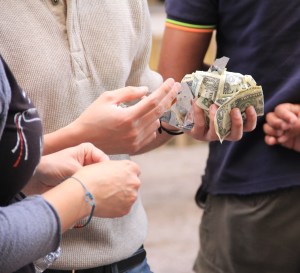 The shift created something of a schism between creative classes last October, when nearly four dozen artists lost their studio space in Industry City after Jamestown raised rents by nearly 20 percent.
By hosting events like NYCxDesign, Jamestown hopes to "embrace the dynamism of the design economy." A partnership with NYC & Company and Wanted Design, NYCxDesign marked the second annual design festival celebrating the achievements of up-and-coming local artists, designers, and manufacturers. Hence the golden calf, a somewhat awkward bridge between the complex's old and  new uses.
Artist Sebastian Errazuriz created the calf with the false idol of Biblical origins in mind. Representing Wall Street capitalism, Mr. Errazuriz asked participants to "beat it up" as they whacked with long, red poles.
"I get it. But then again, a number of these people are here just to get that money," Jordan Stewart, an onlooker, said.
The piñata's destruction, much to the joy of random passersby, was virtually unregulated, and people snagged profits of anywhere from $2 to $56, stuffing the dollar bills into overflowing backpacks.
"I just want to get my lunch money back," one attendee quipped as he stuffed his pockets with singles.