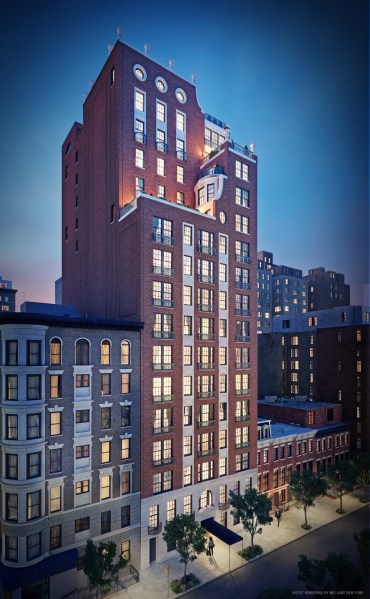 A year and a half ago, the Observer chronicled the real estate happenings on a block of East 78th Street, where Spruce Capital Partners went on something of a buying spree, snapping up the Ackerman Institute at 151 East 78th Street and a conjoined townhouse at 153-155 East 78th. As we predicted, a larger project was in the works, the details of which have now come to light.
A boutique condo, to be designed by the much-lauded Peter Pennoyer, is rising on the site, with 14 ultra-luxe units, among them a duplex maisonette and ten 3,966-square-foot floor-throughs, all of which are now in contract, according to Spruce Capital, who is developing the project along with partners that include Carpathian billionaire Alexander Rovt.
And yesterday, the three penthouses hit the market, the most expensive of which, at $29.5 million, tops the $29 million that the developers dropped on the 57-foot-wide site, as was pointed out by The Real Deal. To build as high as they did, Spruce Capital assembled additional air rights from three neighboring buildings, augmenting those attached to the lot.
Robert Schwartz, who with Joshua Crane is co-founder of Spruce, told the Observer that while many of their other projects have been townhouse renovations, this particular site, lying as it does just off Lexington and right outside the Upper East Side historic district, represented a rare opportunity.
"We had a 57-foot-wide expanse, a great tree-line and a prime location. It wasn't landmakred and there were significant air rights," he said.
To best capitalize on the site, the developers tapped Mr. Pennoyer, renowned for his stately, classical designs that cater to Upper East Side tastes. Much like the extremely popular 737 Park, being developed by Macklowe Properties, and the Brodsky Organization's 135 East 79th, 151 East 78th blends pre-war graces with the ever-more-numerous "must-have" amenities of modern life. (A 24-hour doorman, landscaped garden, library, gym and yoga studio, for example.)
Buyers have been enthused, to put it mildly: the development only hit the market a month ago with Stribling's Alexa Lambert and Cathy Taub, and its 11 units are now in contract for between $10 million and $12.75 million. The penthouses will range from $10.85 million to $29.5 million for a 6,975-square-foot five-bedroom duplex with a 1,690-square-foot private terrace.
Spruce says that all the buyers so far have been New Yorkers who intend to make the building their primary residence.
Asked why they hadn't simply renovated the three townhouses and then tried to re-sell them, as they did before at 42 West 71st Street and 116 Waverly, especially given the large sums that Upper East Side townhouses are fetching these days, Mr. Schwartz pointed out that some people weren't interested in vertical living.
Or rather, that they prefer to live on one to two massive floors, with living spaces arrayed along south-facing windows, and have all building services and upkeep taken care of for them. That this can be accomplished without courting a pesky co-op board is an extra bonus.
Much like the contractees at 151 East 78th Street, Ackerman has also found a new home. In December 2012, the Institute dropped $7.6 million on a retail condo at 936 Broadway. Fancy uptown trappings, apparently, are not so well-suited to non-profits as they once were.
Correction: An earlier version of the story stated that 737 Park was being developed by the Brodsky Organization. The developer is Macklowe Properties. The Observer regrets the error.