The Japanese call it "tsundoku" — the act of buying books, letting them pile up and eyeing them wistfully while never finding time to read them. Well, a new app want to help you digitize those books so that you can finally get around to finishing them.
Bitlit, an app that allows you to take your physical book collection and convert it to digital, has completed their seed round today. They've declined to say how big the round was, but among the investors is Michael Serbinis, who's had plenty of reading tech experience as founder and former CEO of eReader company Kobo.
To convert a book with Bitlit, you verify ownership by taking two pictures: one of the book's cover, and the other with your name written on the copyright page of the book. Once verified, you can obtain a digital copy of the book for anywhere between 80 percent off to completely free.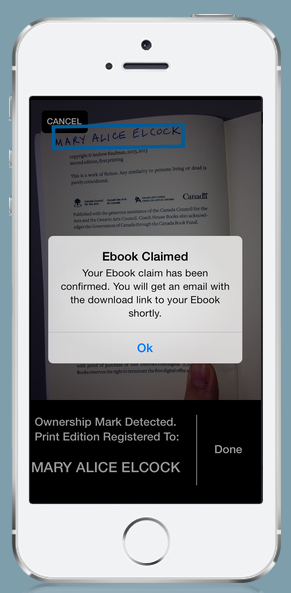 So what's to stop cheaters from going into a library or bookstore and claiming books as their own? In the case of libraries, most books have barcodes on the front that prevent you from taking a clean picture of the cover. And as for bookstores, Bitlit CEO Peter Hudson says that you're pretty much setting yourself up for disaster if you tried to claim an unsold book.
"Typically, people who are readers are smart enough to understand consequences," he told Betabeat this morning. "Going into a business, writing your real name into a book you don't own, and documenting that in your smartphone and in a store might not be the smartest idea."
It's been a big 24 hours for ebook startups, with big publishing houses making their libraries available to Netflix-like subscription services. But Bitlit Mr. Hudson is betting that people aren't ready to give up physical books completely.
"We're eight or nine years into the ebook revolution, and we've seen four percent of readers convert to ebook-only," he said.
Mr. Hudson wants to capitalize on the 96 percent that are still either reading real books, or a using a "hybrid" experience of having both paper copies and digital books. By his account, avid readers might prefer to buy physical copies of classic literature like Anna Karenina or Being and Time. These are the readers that Bitlit wants access to — people who have these kind of great reads piling up,but unwilling to lug them around.
And when people aren't finishing books that they buy, it becomes problematic not just for readers, but for booksellers, authors, and publishers.
"People still tend to buy books based on recommendations from friends," Mr. Hudson said. "From a bookselling perspective, it's important for people to actually read the books they buy."
So far, the offerings from the Bitlit library are pretty slim, offering about 10,000 volumes from smaller publishing houses like Greystone Books and Chicago Review Press. But Bitlit told Betabeat that in the next few weeks, they'll be signing a deal with one of the big five publishing houses, which could grow the Bitlit library exponentially.