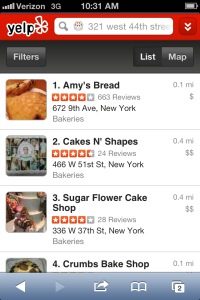 There was once a time when emojis were all fun and games, but now they mean business.
A new Yelp feature enables users on the mobile app to search for services using the friendly little icons we all love.
Now, instead of typing "bar," all you have to do is enter one of the five alcohol-related emojis.  Wine glass, martini glass, garnished cocktail glass, beer mug or X2 beer mug — the choice is yours.
Surprisingly, a lot of emojis can be used on Yelp.  There's plenty for food, and c'mon, we know that's what you want.
We tested the new search feature, and pizza, burgers and spaghetti, among others, all garnered appropriate results.  The app even recognized the sushi emoji, which, to be honest is hardly passing.
It works for your other needs as well.  There's finally a use for that "girl getting a haircut" emoji, and the puppy face resulted in a list of nearby grooming and training facilities.
Yelp might still need to work out a few kinks. When we searched with the airplane emoji, Dunkin Donuts, the Gap and a liquor store were among the top results. On the other hand, maybe Yelp just knows you need comfortable clothing and a drink to get you through a flight.
It seems companies are deeming us lazy, for they're constantly developing ways to swap out the strenuous act of physical typing for methods that are way less complicated.
A new feature soon to be released on the Facebook mobile app will detect audio from songs, TV shows or movies (Shazam-style) and post what you're watching or listening to as your status.  Songs will even automatically link to 30-second previews on Spotify, Rdio or Deezer.
Hooray for laziness!
(h/t Telegraph)