A New York City cab driver has been suspended from the job for wearing a Nazi swastika armband while on duty.
After receiving several complaints of a cabbie openly wearing a swastika armband, The Anti-Defamation League of New York stepped in and issued a letter to the New York City Taxi and Limousine Commission (TLC) urging for an investigation into the allegations.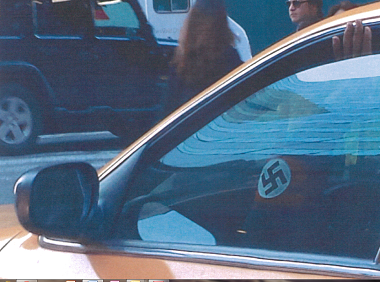 The TLC then suspended the driver, who admitted to violating the commission's rules.
"We applaud the TLC's swift investigation and successful prosecution of this outrageous and inflammatory gesture by a taxicab driver," Evan R. Bernstein, Regional Director of the ADL, said in a statement. "By openly displaying this hate symbol identified with Adolf Hitler and the Nazi Party while operating a New York City taxicab, the driver sent a frightening and offensive message to New Yorkers about who might be welcome – and unwelcome — in the taxicab he was driving."
The driver — who remains unidentified — will be suspended for 30 days.
If (and let's hope not) he decides to break the rules again, it will be easy not to heil his cab.