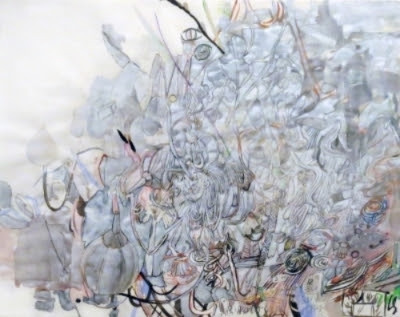 This Saturday, in partnership with the Observer, the Robert Miller Gallery will host The Young Collectors Art Studio Tour, aimed at helping young New Yorkers begin or expand art collections. The event, limited to 60 participants, was conceived by Arielle Patrick, who identified "a dearth of friendly, receptive environments for young art lovers to learn more about new artists," as well as Robert Miller Gallery owner Betsy Wittenborn-Miller and art dealer Diana Burroughs.
The host committee includes photographer Ben Watts; entrepreneurs Kipton Cronkite, Kyle Hotchkiss Carone and Alexandra Fairweather; and editors Isabel Wilkinson and Giovanna Campagna.
Four small groups of attendees will spend the day visiting the private studios of artists Yasmine Arman, Mark Fox, Alexandra Posen, and Antoine Wagner for presentations and champagne. All works will be priced under $5,000, and sales will directly benefit the Pollock-Krasner Foundation, an organization founded by Jackson Pollock's widow, Lee Krasner, to provide financial assistance to individual working artists.
After the tour, participants will reconvene for a private lunch at David Pasternack's new restaurant, Barchetta.
Attendance is limited to 60 select participants. First come, first served. Click here to RSVP