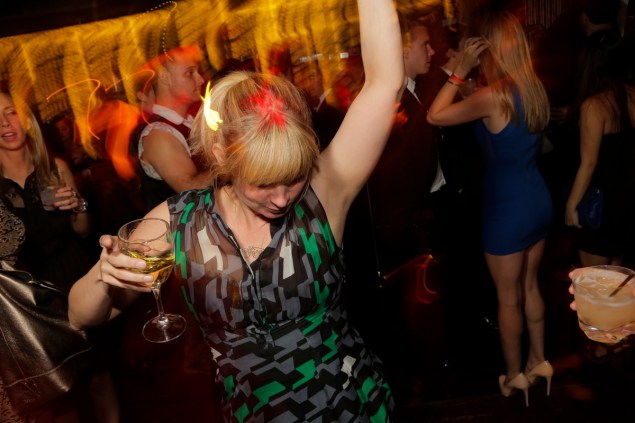 Wednesday, May 14
Rescheduled due to stormy weather!
Wednesday May 21
A lot of people say the mini sailboats in Central Park are for children, but a lot of people forget that children are just tiny, drunk adults. So it makes sense that Altaneve Prosecco hosts an invite-only mini-sailboat regatta at the Central Park Boat Pond. There's live jazz by the Richard Russo Quartet and treats by Magnolia Bakery. (I know you hate their frosting—we all hate their frosting, but that in itself is a good conversation starter.) There's also "cocktail boating attire required," so expect a ton of Gatsbabies in boater hats. However, if you weren't actually invited, we'd recommend dressing like the creature from the Black Lagoon, emerging roaring from the Boat Pond waters, knocking mini-sailboats over in your horrible wake and then just fleeing, a cupcake in one hand and a glass of prosecco in the other. Really looking forward to seeing you—we've always loved you in that outfit.
Central Park Boat Pond, 5:30-7:30 p.m., invite only
Thursday  May 15
The University Settlement hosts its Making Space for Downtown Dreams party. The event features a series of experimental dance hall performances by young artists. And look, even if you side with the parents in Footloose and wish those crazy kids would just walk like normal people, you'll want to stop by the after-party at artist Hale Gurland's studio. The space is a renovated synagogue on Rivington Street, which Mr. Gurland has owned since the early '80s. We're happy to have Mayor Bill de Blasio take New York back 30 years if we can all have real estate like this. 
184 Eldridge Street, 6:30 p.m., $175, web11.fcny.org
Friday  May 16
Prince Lorenzo Borghese is a man who—judging by his reality TV appearances on Celebrity Big Brother UK, The Bachelor and Coming To Holland: Prince Looks For Wife and Miss Advised—wants to be famous more than you, me, Truman Capote or anyone you've ever heard of. He now stars in Lucky Bastards, the Esquire Network reality television show about, well, presumably the title is self-explanatory. Prince Borghese makes a special appearance at the Sharp event hosted by Esquire, featuring brands from need-to-know menswear designers and free shaves that should help even less princely men get lucky. Joking, totally joking—obviously, three-day stubble is the way to get lucky.
82 Mercer Street, 7-10 p.m., invite only 
Saturday  May 17 
Given how much this town loves interactive experiences like Sleep No More and the tedious Moulin Rouge knockoff that is Queen of the Night, it's frankly amazing that Escape the Room doesn't get more press. You and a group of friends are thrown into a room that contains a series of hidden objects with clues on how to "escape the room." Eighty-five percent of teams fail, so your victory will be even more glorious. 
25 West 31st Street, 11th floor, $28, escapetheroomnyc.com 
Sunday  May 18
Look, it's Sunday. The weekend is almost over, and you should finish it with a drink someplace that looks like a 19th-century robber baron's study. After $140 million worth of renovations, the New York Palace Hotel is back and no longer feels like it's supposed to serve as a backdrop in Dynasty. That's nice news for out-of-towners, but the only reason this matters to you is that Rarities, its hidden, membership-only bar, has a liquor selection that would make Cornelius Vanderbilt weep. Get one of its pours of Pappy van Winkle, Old Rip Van Winkle, Van Winkle Special Reserve or whatever non-Pappy, watered-down swill you drink, and go into the week like a captain of industry.
New York Palace Hotel, 455 Madison Avenue, 5 p.m. every Sunday, 917-202-8379
Monday  May 19
Do you like galas where there are lots of tasting stations from hot restaurants? Do you just like to eat? If so, that is a cool thing you have in common with orphans in Africa. At Melissa Kushner's gala, you can help yourself to bites from restaurants like Eataly and August, and you can also help the people who need it most. Goods for Good is a legitimately terrific charity that economically empowers communities in Southern Africa to support orphans and other children in need. And if all that sounds lame, we hear they're raffling off a Vespa.
555 West 18th Street, 7-10 p.m., $250, galaforgood.splashthat.com
Tuesday  May 20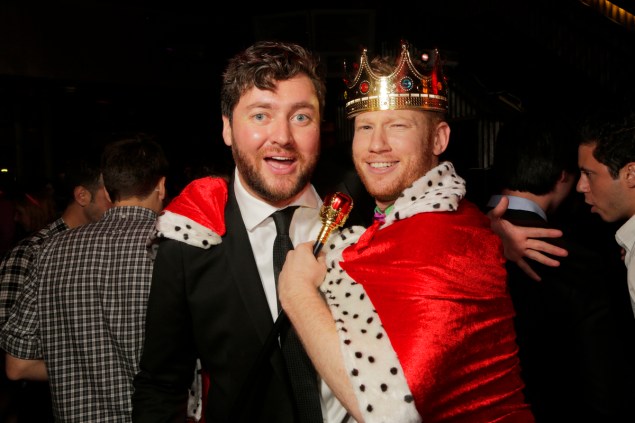 Remember the nerds in high school who didn't go to prom? They all started tech companies, got obscenely wealthy, invested in personal trainers, look amazing and now get to go to prom every year for the rest of their lives. And if you doubt any part of that statement, don't bring it up at the Webutante Ball. Forbes calls it "the best tech party in town," and Richard Blakeley's ball brings together a very formally clad set of webpreneurs, like Rachelle Hruska of Guest of a Guest and About.com CEO Neil Vogel, as well as every 22-year-old who loves hoodies and thinks Silicon Valley is a really good show. We promised we wouldn't reveal the secret after-party location, but we can tell you that special guests will be whisked there by a fleet of Gett Taxis, so maybe just climb into one and loudly announce, "I'm a V.C."
Marquee, 289 10th Avenue, 8-11 p.m., $50, thewebutanteball.com
Wednesday  May 21 
What's nice about Cipriani 42nd Street is the Bellinis and how you're going to go there every single week for the rest of your life. There will always be a party there, as long as there are galas. This week, it's El Museo's 2014 gala, and you sip your Bellini among with Pedro Almodóvar, Amy Astley, Marc Anthony and Cameron Diaz. It will kick off some innovative programs by social impact organizations Music has No Enemies and Content-OS and has the best and most bizarre invitation cover art we've seen all year.
Cipriani 42nd Street, 110 East 42nd Street, 7 p.m., $1,250, elmuseo.org/event/gala-2014
If you have a great event you'd like listed, email Jennifer Ashley Wright at: 8dayweek@observer.com. Otherwise, she's just going to show up in her Maleficent costume.