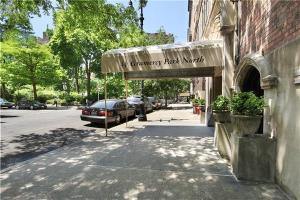 Joyce Jackson, a broker at Stephen P. Wald Real Estate, suggests that potential buyers imagine a 12th-floor two-bedroom apartment at 44 Gramercy Park North just listed for $7 million as their own "version of Downton Abbey." The co-op's motif, which might be described as "Tudor castle," lends credence to that vision, but to hear the current occupant tell it, Studio 54 might be a more relevant model. Janos Aranyi, an 81-year-old Hungarian immigrant and a maker and restorer of picture frames—some of his handiwork hangs in the Metropolitan Museum of Art—has lived in the unit for some 45 years, many of them with his wife Theresa Llorente. Parties, he said, have long been a passion, and the apartment has been the site of countless soirees attended by such high-profile guests as Al Pacino, George Soros and Jeremy Irons.
"Parties were always my hobby," Mr. Aranyi told the Observer during a recent visit, speaking in heavily accented English. "I don't know, I felt moved to do it. A lot of people met here, you know? Some maybe spent the night together. Some maybe even got married."
A 2,141 square-foot former duplex, the unit was designed for and occupied by the building's original owner, and converted to a single-floor apartment in 1939. Though the Schwartz & Gross structure evinces Tudor style throughout, Mr. Aranyi's co-op has a particularly medieval aspect, with thick concrete walls that resemble stone-block ramparts and 14 stained-glass windows looking onto the park depicting dragons, knights and swords. There are intricately paneled dark wood walls in the dining room and master bedroom, arched doorways, wall sconces and heavy chandeliers. Mr. Aranyi and Ms. Llorente have accentuated the apartment's design, decorating with Oriental rugs and oil paintings in ornate frames, showcasing a varied and whimsical collection of Hungarian art. In one corner, a gray rapier leans nonchalantly against the wall.
All this, of course, is not to everyone's taste. "Men tend to get it," Ms. Jackson said. "But women, they see how much work is going to be involved." As ever, the bathrooms and kitchen will almost certainly be gutted—though Mr. Aranyi protests that Mr. Soros' guest bathroom much resembles his own—and drop ceilings will likely be demolished to reveal underlying beams. Though a terrace, one of five in the building, is an eminently serviceable 485 square feet, little in need of fixing.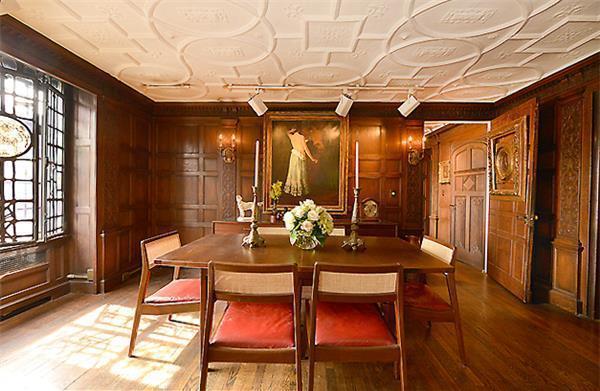 Sitting in the guest bedroom, which Ms. Llorente currently uses as a studio—it contains 11 sewing machines and innumerable fabricating materials—Mr. Aranyi reminisced about his time in the co-op. "You know, an artist once asked my wife to make a pair of gloves twenty feet long," he marveled. The couple met at one of his parties. "Of course, of course—at a party!" he said. "I saw her standing there and I went to talk to her and then…I'm not sure how to say it." The rest is history? "Yes! As you say, the rest is history. Of course, I was much younger then."