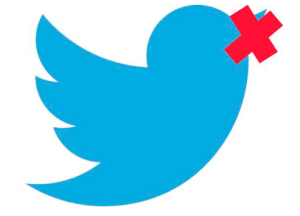 We all have that friend who's great in person, but super annoying on Twitter — you know, that person who retweets everything Perez Hilton posts, or who uses #blessed in every other tweet. Straight up blocking that friend is a little harsh, but then how do you escape the constant barrage of 140-character nonsense?
Thankfully, Twitter announced on their blog today that they're introducing a new "muting" feature, which will let you hide certain users' activity from your Twitter experience. Here's how product manager Paul Rosania describes the new feature in the blog post:
"Muting a user on Twitter means their Tweets and Retweets will no longer be visible in your home timeline, and you will no longer receive push or SMS notifications from that user. The muted user will still be able to fave, reply to, and retweet your Tweets; you just won't see any of that activity in your timeline."
Mr. Rosania also notes that your muted friends won't know that they're muted — unless, of course, your friend calls you up and demands to know why you didn't fave their latest Scandal tweet.
The post also indicates that besides muting people's profiles, you can also mute followers from individual tweets — perfect if you didn't want to hear your parents' reactions to the photo you just sent out of your new tattoo.
In Betabeat's opinion, the feature is a little cruel. Imagine being excited about getting a highly-coveted follow, only to discover that person has elected not to see anything you tweet, retweet or favorite. On the flipside, if you're a total coward, using mute is a great way to follow someone out of pity, and then not actually have to see any of the crap they write.
Don't fret if "muting" isn't available to you right away. Twitter will roll out the "muting" feature to all users in the coming weeks.