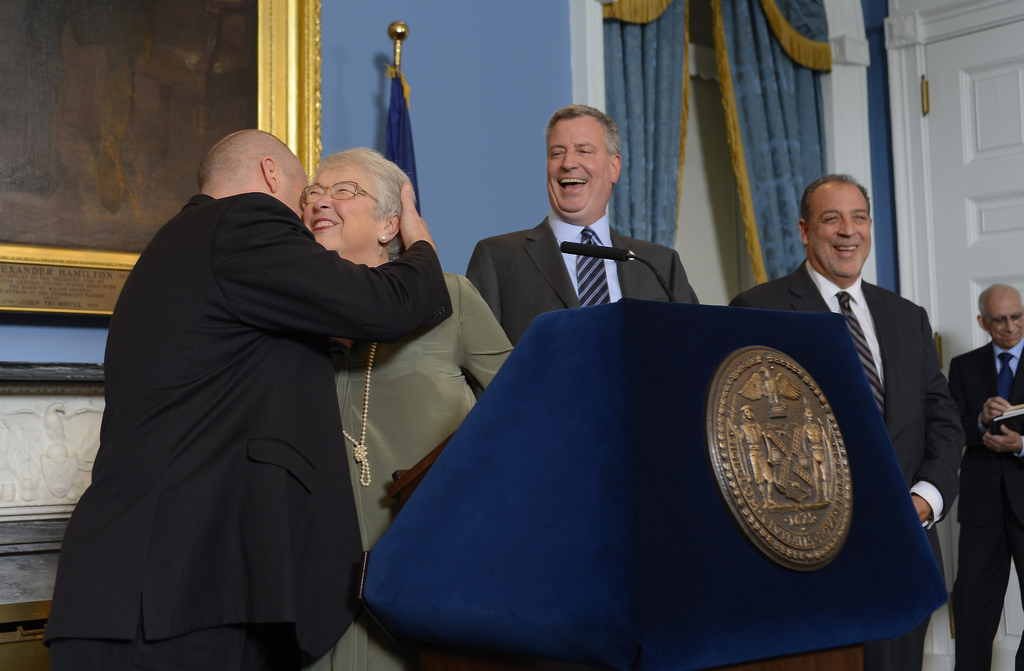 UFT President Michael Mulgrew and the city's schools chancellor today did something that would have been unthinkable six months ago: they announced a new, nine-year labor contract, and sealed it with a hug.
The new deal with the United Federation of Teachers will cost the city $5.5 billion, and includes substantial retroactive pay raises for the city's more than 100,000 teachers going back to 2009, as well as more modest pay raises through 2018. The deal is expected to be partially paid for through yet-to-be secured health care savings that officials say will save the city about $1.3 billion over the next four years.
But at a press conference announcing the deal late this afternoon, Mayor Bill de Blasio was less interested in sharing specifics than celebrating the end of a years-long "stalemate" between the city and the teachers union, whose relationship had been marked by rancor and disdain during former Mayor Michael Bloomberg's final term.
Mr. de Blasio raved about the "landmark agreement," hailing it as an "historic day" and "a great day for children and for families" that marked "a gateway to great progress in our school system," bringing in "a ray of crucial reforms" that he deemed "extraordinary."
"The last five years engendered such frustrations, a log jam that seemed so often impractical and so wrong and so unnecessary and so much rancor," said Mr. de Blasio, who credited the deal  to a new sense of collaboration and mutual respect.
For his part, Mr. Mulgrew hailed the new mayor and the way the deal was hammered out in recent weeks.
"The teachers and the educators in New York City have gone a long time without getting any proper respect. That changed with the changing of the administration," he said.
Asked about the key differences between Mr. de Blasio's negotiations and those of his predecessor, Mr. Bloomberg, Mr. Mulgrew was incredulous
"Are you serious? Are you serious?" he shot back, to laughs
"That's a teacher," the union leader said, pointing to Schools Chancellor Carmen Fariña. "It just starts right there. This is a mayor who actually respects the workforce and says, 'They do a great job, we have to be respectful.' But more importantly … we're talking about ideas that are based on what makes sense inside of a classroom versus what makes sense in a sound bite in a political atmosphere. That is the major difference."
"That's the nicest way I'm going to say," Mr. Mulgrew added with a smirk.
Later Mr. Mulgrew said that, "The days of political ideology pushing ideas not based on educational research are gone." A spokesman for Mr. Bloomberg declined to comment.
But many details of the deal remained unclear even after a more than hour-long press conference, including how the plan would be paid for.
"Today represents a great victory for the taxpayers of this city, because this agreement is entirely funded within the city's current budget framework. And it is funded because working together, working together, we identified significant health care cost savings, the kinds of savings that has been talked about for years but never achieved until this group of individuals got together and found common ground," Mr. de Blasio said.
After the press conference, officials pegged the total cost of the contract at $5.5 billion, $1.3 billion of which they said will be paid for through health care savings. Another $1 billion will come from the city's labor reserve pool, which the mayor announced he had filled when he unveiled his preliminary budget in February.
That leaves $3.2 billion in uncovered costs, which officials said would be laid out when the mayor presents his executive budget plan last week.
The source of the health care savings is also vague, and any changes must first be approved by the Municipal Labor Council, an umbrella group of labor unions, which is set to vote on the deal at meetings tomorrow and Monday.
So far, the city and union have agreed to what they described as a menu of possible cost-savings options. If the deal is passed, Mr. Mulgrew said the city and union would convene a joint working committee to work out specific savings, which union officials say is not expected to included any increased contributions from members toward their health care costs.
Despite the uncertainty, Mr. de Blasio said he was "very confident" the savings would be realized.
"We have agreed to a set of objectives that we think make sense," added the city's director of labor relations Bob Linn.