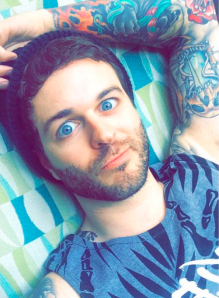 Nothing in this world can be certain except death, taxes and Vine celeb Curtis Lepore being an insufferable jerk about his rape case.
Mr. Lepore was accused of raping his ex-girlfriend and fellow Vine star, Jessi Smiles, last August. We don't know what exactly happened between Mr. Lepore and Ms. Smiles when the alleged rape occurred, but we do know that Mr. Lepore took a plea deal on Feb. 21, wherein he pled guilty to felony assault charges and effectively cleared himself of the rape charge.
Mr. Lepore then proceeded to act like a total dick as he openly celebrated the plea deal on social media.
Now, in a Rolling Stone piece called "The Six Seconds Between Love and Hate: A Vine Romance Gone Wrong," Mr. Lepore is at his piggish behavior again — this time perpetuating victim blaming and a pretty screwed-up concept of consent.
It starts when the article discusses the former couple's first real-life meeting in Washington Square Park. Mr. Lepore reportedly informed Ms. Smiles he was going to publicly ask her to be his girlfriend in front of all their fans. Ms. Smiles, on the other hand, said she wanted to keep things "more low-key." Mr. Lepore told Rolling Stone what he said to Ms. Smiles: "You're the one that wants to come here to reveal yourself in front of me. I'm going to ask you out in front of everybody."
In other words, if Ms. Smiles wasn't comfortable with Mr. Lepore's public display of affection, it was strictly her fault for putting herself in the situation to begin with, and not Mr. Lepore's fault for treating Ms. Smiles against her will. Sound like victim blaming to anyone?
The article proceeds to explore Mr. Lepore's thoughts on what happened when the alleged rape occurred. Mr. Lepore said he couldn't tell Rolling Stone "his side of the story" because the case was still active:
"'Believe me,' [Mr. Lepore] says, 'there is so much I want to tell you right now. I want to just tell you everything. I want to tell the world everything.' There are some things, however, he will say. 'We had sex every day when she got to L.A.,' he says. 'So, we had sex that same week. I would have never done anything that I didn't think a girl was insinuating, anyway. I'm 30 years old. I've been with girls since I was 16. I've been with my fair share of girls. I think that forcing yourself onto a woman, people that do that, is disgusting, and is unforgivable.'"
Again, we'll never know what really happened between Mr. Lepore and Ms. Smiles. But whether Ms. Smile's accusations were valid or not, it's clear that Mr. Lepore, in general, doesn't understand the rules that dictate when you should and shouldn't have sex with someone. Every sexual act requires consent from all participating parties, no matter how many times your partner has said yes to sex in the past. And even if you think someone is subtly "insinuating" that they want to sleep with you, that doesn't mean you're free to do with them as you please.
Mr. Lepore's mother also perpetuates a skewed notion of consent, telling Rolling Stone, "He was lovingly waking her up. He did not rape her."
Um, hello, it doesn't matter if your intention is to be loving; if your partner is asleep, they're not able to consent to sex. And if your partner isn't able to consent to sex, you can't have sex with them. End of story.
Now that Mr. Lepore has accepted the plea deal, he's trying to move on with his career. He told Rolling Stone he knows it'll be hard to rebrand himself. We can't say we wish him luck.