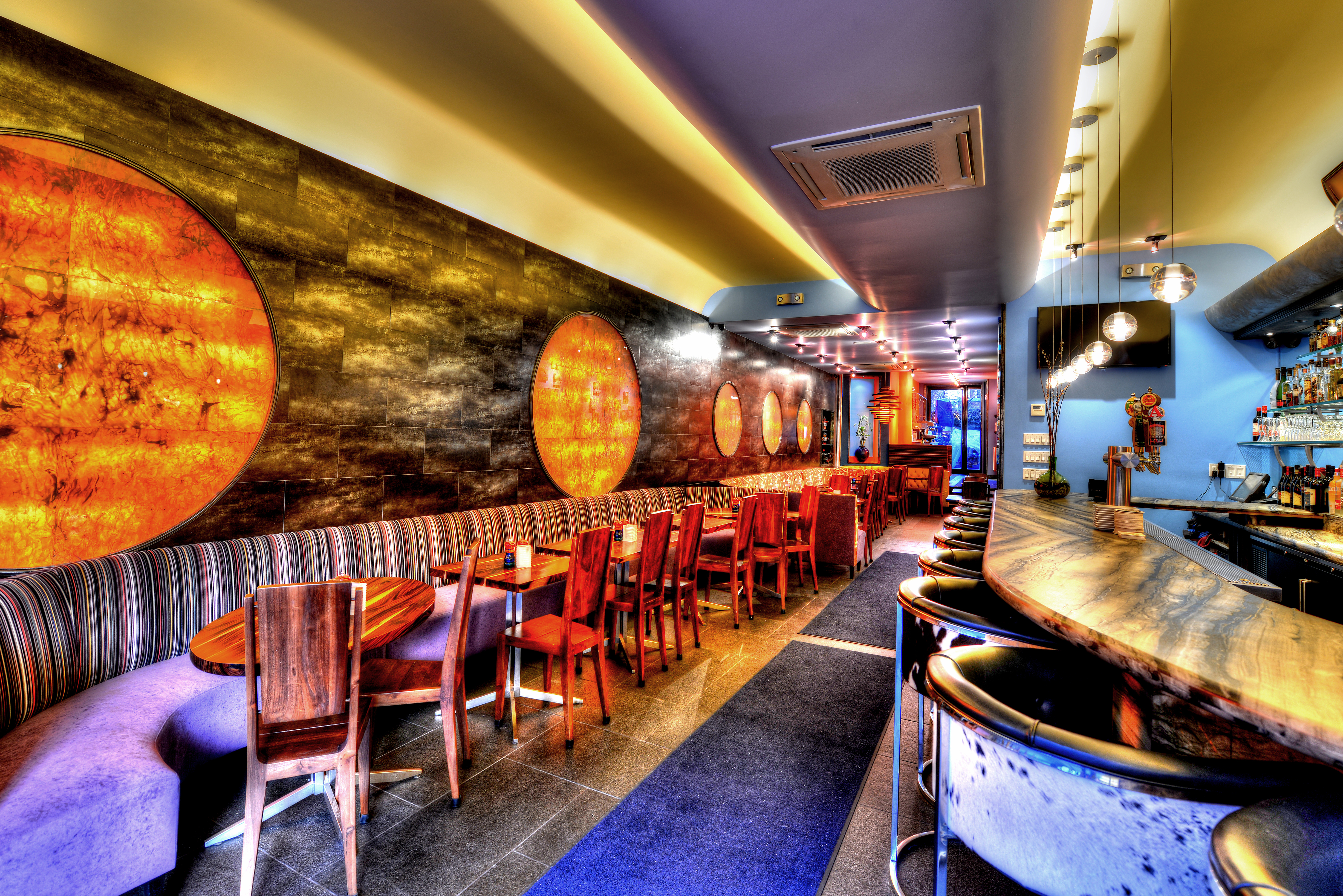 The last thing New York needs is another Mediterranean restaurant. Endless are the permutations of the Greek taverna, Marseillaise bistro or Andalucian tapas bar. These are boom years for terra-cotta and olive oil.
But lacunae exist even in a saturated market. Israel and North Africa, two of the most fertile Mediterranean regions, have yet to feel the love. It could be cultural unease or a lack of well-established ex-pat communities – or perhaps we eaters are adventurous only to the limits of the Schengen Area? Whatever the reason, I defy even the most provincial to drag a fluffy tear of flatbread through an earthy bowl of hummus at the new restaurant Bustan and not mourn the lack of others like it.
Bustan brings the Levant to the Upper West Side, whose culinary scene is defined by the fact that the longest lines routinely form in front of a restaurant called Good Enough To Eat. Israeli chef Efi Nahon, a pleasant middle-aged man with just a hint of what is known as Israeli intensity, was a line cook at a portside tavern in Jaffa, and in 2002 came to New York to be first chef at a place called Taboon (literally a brick-oven, wood-fired grill), where he flew under the radar, not unlike a Semitic Cesare Casella, before moving to Barbounia, the Greek Six Flags. Bustan is his first solo venture.
---

BUSTAN
★★★★★
487 Amsterdam Avenue
212-595-5050
New York, NY 10024
bustannyc.com

---
The restaurant is long, narrow and a bit Zohan-like, thanks to squiggly light fixtures, cowhide barstools and other charmingly catholic mid-90's décor. But the garden – bustan means "garden" in Hebrew – is perfect, thanks to its slatted walls, festively orange tables and butterfly gewgaws popping out of the plants, delighting both my two-year-old and the tabby stalking the back wall. Wandering in there recently at 11 AM on a Saturday, Bustan was empty (the restaurant has been open since February but just started brunch) and felt like finding a first edition Superman among a bunch of shitty Aquamen comics.
It's been a hot second since I sat mystified before a menu, but Bustan's brunch menu is thrilling terra incognita. Besides dutifully fluffy pancakes and #normcore bait like Bustan benedict (toasted challah, kale, roasted tomato, avocado and mint yogurt) is an entire section devoted to shakshuka, a Libyan baked egg dish which resembles a hen house massacre in a skillet. Mr. Nahon treats shakshuka as more means than end, shakshuka-izing chicken and foie gras merguez, and Dr. Suess-ing it with creamed spinach, artichokes, fior di latte and truffle oil. The latter, creamier and mellower than the traditional version, comes in a skillet looking like a satellite photo of a forest-covered planet, and is the best that brunch – a meal for scoundrels, suckers and slackers – can be. All these shakshukim arrive with a life-affirming loaf of taboon-baked bread, brushed and browned with olive oil. It's the best baked product since The Dude: Narrow, tearable, dippable, yeasty, unstoppable.
I didn't want to leave and returned for dinner again and again. One could make the argument that Mr. Nahon is a one-trick pony, but so was Prometheus. Fire is a nifty trick. Mr. Nahon is especially deft at using the high heat of the taboon for a few seconds to imbue fish with a smoky richness. One night a split-open branzino arrived so fresh it seemed surprised to be there. Open like a billfold and drizzled with red wine vinaigrette, citrus and persillade, the skin was crisp as Quentin and its flesh tender as the night. After two decades, Nahon has discovered the secret: Midway through the cooking, he takes the fish out to rest before slotting it in again.
| | |
| --- | --- |
| One could make the argument that Mr. Nahon is a one-trick pony, but so was Prometheus. Fire is a nifty trick. | |
Nahon grew up in the southern Israeli town Kiryat Gat, founded in 1955 by eighteen Moroccan families. His father moved there from Casablanca in 1967; his mother from Russia the same year. Watching villagers place dishes into huge clay ovens on Friday before sunset and extract them on Saturday morning are the inspiration for his lamb terracotta, in which hand-ground Colorado lamb kebabs are seasoned, cooked and sliced open at the table. If you've never experienced a lamb steam bath to the face, this is where to try. It's aromatic and pore-opening.
This dish alone earns Bustan a place in my heart, but then Mr. Nahon and his magical taboon keep hitting paydirt. Braised beef cheeks are the best use of raz al hanout and farro I've ever seen. Taboon-baked cauliflower halves are giant, nutty and awesome. An egg burek, being a poached egg in a Charles James-like feuilles de brick dress, sweeps onto the plate and softly steals the show.
Of course, the sine qua non of an Israeli place is the hummus, which is funny since Mr. Nahon says, "I had never cooked hummus before I came to New York." If true, he's a good study. Mr. Nahon uses 7-millimeter chickpeas, soaked overnight, and tahini from both Nazareth and Nablus. SodaStream-like issues aside, this hummus is unassailable. Silky tahini like patent leather flats swirl on velvety hummus, the whole thing cut through with rivulets of olive oil. It tastes like the promised land—earthy and refreshing. Visualize whorled chickpeas.
What the Stars Mean:
★★★★★  Philosophy. Execution. Ambiance. Deliciousness. These powers combined form five stars.
★★★★  Largely successful with a few forgivable flaws but, yeah, generally awesome.
★★★  A valiant effort, though shortcomings consign it to mediocrity.
★★  Still not on the side of the angels but not, you know, the worst.
★  Pretty terrible but a glint of goodness.
(No stars)  An abomination.