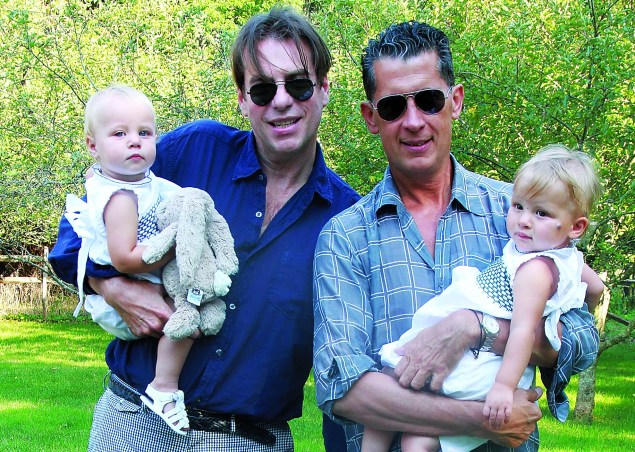 In the 19th-floor corner office of Stefano Tonchi, the editor in chief of W magazine, bookshelves are not allowed.
Seven stacks of hardcovers, their spines bearing names like Vreeland and Roitfeld, line up on the carpet to leave the walls free for art. Flanking the door are a David Salle canvas and an installation of graphite nuggets by Teresita Fernandez; behind Mr. Tonchi's desk, a Tracey Emin piece spells out "I Can Never Leave You," in blue neon. 
"Sometimes, if a staff member comes to say they want to leave, I show them this," he says, in his lilting Italian accent, grinning. "Sometimes, they change their minds."
Mr. Tonchi is a fashion editor who acts like an art publisher. He is married to David Maupin, a co-founder of the influential Lehmann Maupin gallery, with whom he co-parents twin girls. Before joining W in 2010, his 30-year career included positions as creative director at Self, J.Crew and Esquire. 
| | |
| --- | --- |
| 'Vulgar means something different in Italian. It means mainstream.' | |
But what made Mr. Tonchi's name was his six years as editor in chief of T: The New York Times Style Magazine. His successful mix of luxury, culture and celebrity attracted both readers and lucrative advertisers to the Gray Lady.
"He was almost too successful," remembers one colleague from the time. "Some on the news side didn't think the paper should be publishing a glossy lifestyle magazine while Times journalists were risking their lives, reporting from Iraq and Afghanistan. But the fact is that T made so much money it probably paid for the Baghdad bureau."
Mr. Tonchi's talent is to cultivate a creative elite as contributors to his magazines, who in turn attract an affluent readership coveted by advertisers. It has made the soft-spoken Florentine one of the most powerful editors in the country and culturally influential among the super-wealthy consumers of the fashion and art worlds.
"W was always interested in the lives of rich people, what they do, where they go, what they eat," says Mr. Tonchi. And now that the rich have become so interested in art, he is uniquely well placed to deliver. Hence the first issue of W:Art, an 88-page, stand-alone magazine to be released this week at the Frieze Art Fair New York. 
Figurative painter Alex Katz has been immersed in the cultural life of the city since entering the Cooper Union Art School in 1946. "Now that art's become fashionable, it's logical that he's doing this," he says of W:Art. "It's more like what they did in the '20s and '30s in Europe, when fashion took in the arts. In Paris, you had this great scene with the fashion magazines and the high art magazines, dance and music—it was all connected."
Miuccia Prada, who has been a close friend of Mr. Tonchi's for decades, agrees. "Stefano was born as a real journalist, and he's deeply interested in today's world, where all disciplines are related to each other," she said via email. "Of course, art is fundamental to understanding the contemporary world."
Mr. Tonchi describes his mission as "breaking down barriers" between subjects. 
"When you have too much good taste, you can become very boring," he said last week, over a fish lunch with his husband at Aquavit. "You don't have surprise. Our audience—they like the magazine to have an edge. They like when the magazine is a little bit more risqué. That's what makes it different from even publications within the company."
"Cod is such an undervalued fish!" interjects David Maupin suddenly, changing the subject to his order.
He has picked up on Mr. Tonchi's allusion to the other powerful titles within Condé Nast and knows when to intervene. Later, when Mr. Tonchi describes himself as "a vulgarizer," Mr. Maupin quickly clarifies: "Vulgar means something different in Italian. It means mainstream."
The couple met 27 years ago when Mr. Maupin, a California native, was studying in Florence. They speak English to each other but Italian to their daughters, Isabella and Maura. The family shuttles between their city apartment and a weekend house in Bridgehampton. A good way to irritate them is to ask if they're a "power couple."
"When you say 'power couple,' it means that the two are working together to gain some kind of power," says Mr. Tonchi, bristling slightly. "That is something that we don't do. Sure, we help each other as two people who live together and love each other, but we don't sit down in a House of Cards style and strategize about how we're going to take over."
"We met each other when we were very young and very unformed," adds Mr. Maupin. "So there was no end game."
The arrival of their daughters in 2011 prompted the couple to marry.
"We had a shotgun wedding is what I like to say," Mr. Maupin says, laughing. "The events were linked because of the legal system. We had a very good lawyer, and she structured things in a way that our daughters were born with both of our names on their birth certificate, because we were married."
After having tried unsuccessfully to adopt, the couple used an egg donor and a surrogate in Boston.
"For me, it was something that was very American," says Mr. Tonchi, contrasting it with the difficulty of being a gay family in Italy. "This woman was very traditional—four kids, a husband, sisters and a mother, and they all were aware of what she was doing, and they were all supportive of her. We had a very great experience."
The girls are named after his sister, the fashion designer Isabella Tonchi, and his late mother, Maura. And for children of a not-power-couple, they already have some rather fancy friends. 
Their gifts have included sequined outfits from Donatella Versace and Lanvin teddy bears from Alber Elbaz. "And they have met Naomi," Mr. Tonchi adds, with a mischievous grin.
The girls are 2 years and 9 months old, just starting to have conversations with their fathers. Because both dads travel so much—Mr. Maupin was just about to leave for Hong Kong, where he is on the selection committee for Art Basel—they use Skype to communicate.
"They're small, but now they're starting to get back to you," says Mr. Tonchi. "You can ask, 'What did you do, what have you done, what did you eat?' and they answer."
Maura is the family hacker, famous for opening an iPhone to which nobody else knew the passcode. "If we need to know where something is, everybody asks her," says Mr. Tonchi. "The nanny says, 'Well, she knows everything.'"
So which one will be the fashion editor, and which the art dealer?
"To really tell the truth," says Mr. Maupin. "I wouldn't mind a scientist."