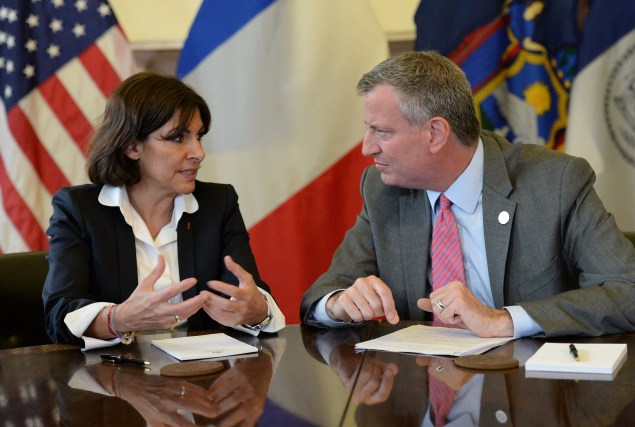 He's a proud liberal Democrat still in the early days of his first term. She's a Socialist Party pol who came into power only two months after him.
Mayor Bill de Blasio, as he gushed to American and French media this afternoon, made it clear he may have found his political soul mate in Paris Mayor Anne Hidalgo.
"It's absolutely amazing by the way, 3,000 miles apart, we have come up with such a similar vision of what our cities need," Mr. de Blasio said, standing with Ms. Hidalgo in City Hall. "What we want to do now is constantly communicate as we implement this vision and help each other figure out what's working and what's not."
Mr. de Blasio has met several foreign heads of state so far, but the visit of a mayor from a traditionally left-of-center country seemed to excite him especially.
"We have three areas where we have tremendous commonality and shared vision: Early childhood education, affordable housing and on environmental sustainability," Mr. de Blasio declared. "We are literally starting our mayoralities at a very similar time with very substantial platforms that are quite similar."
The Democrat called Ms. Hidalgo's commitment to these principles extraordinary, praising the Parisian mayor as a "bold progressive." Ms. Hidalgo spoke mostly in French and Mr. de Blasio eagerly listened to his translator as she addressed the media.
"I am encouraged and inspired by her example and I have only a few more months of mayor than you but I'm already inspired by you," he said. "Paris and New York have so much in common."
"Mayor Hidalgo is working in the laboratory of Paris on important progressive ideas. I am humbly working in the laboratory of New York City on important progressive ideas," he added. "We also both want to use our cities as examples."