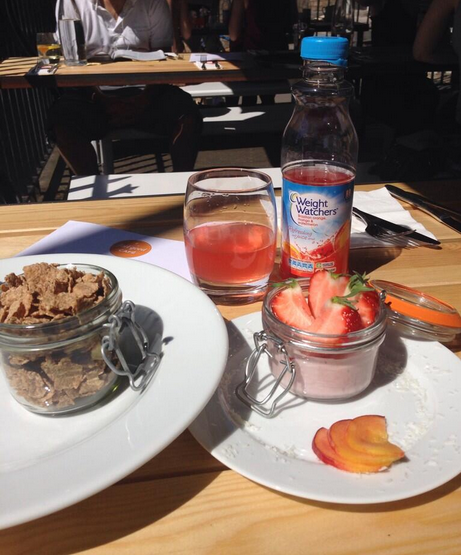 Anybody who's tried to shed pounds through the retro '80s diet system known as Weight Watchers can vouch for how hard it is to stay within WW's weight loss parameters.
For someone abiding by this torturous daily-points-counting system, temptation lurks around every corner. It's enough to force you into actual exercise, just to earn back a few points so you can enjoy an extra cheese cube with dinner. You also have to shamefully sulk into a meeting every week like a recovering alcoholic. The public weigh-in adds to the humiliation factor.
So it's kind of confusing that Weight Watchers is offering free food to its deprived denizens at a new branded café in London. Why make it even harder for participants to stay below their daily limit? How can one be expected to fit back into her favorite mom jeans when there's free food up for grabs?
But it appears the new Weight Watchers Feel Good Café in London is actually designed to bring new customers in, not to please long-suffering WW members — which is kind of ingenious.
The Café is offering diet-friendly meals to anyone who helps to promote Weight Watchers over social media. It's a pretty smart way to get people craving Weight Watchers' substitute-heavy foods (no mean feat, we can assure you), and to get the diet system on people's radar through a kind of forced word of mouth.
This will also help Weight Watchers to make itself known among younger millennials, who probably aren't likely to see Jessica Simpson as a source of lifestyle inspiration.
The store will only be open from May 16 to 23 in London, but if it goes well, more locations could pop up. Interested diners can follow the café's Twitter account for daily menu updates.
And as far as tech-integrated diet — sorry, "bodyhacking" — solutions go, getting free food in exchange for your tweets is at least better than Soylent or paleo.