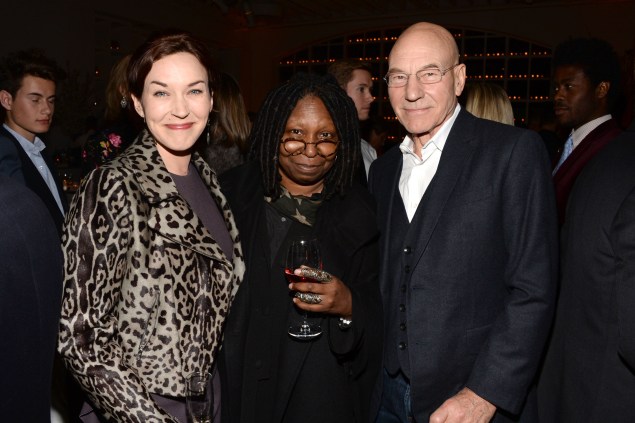 The French call it joaillerie and bijoux. New Yorkers of a certain stratum fancy the term "baubles." Rappers have given it the catchy name of "bling." For Shindigger, it is simply the cat's pajamas: chokers, charms, brooches, tiaras, anything sparkly, usually encrusting an appendage. And it's no secret that many of the events that send us scuttling uptown and down, east to west, even across the river, are bankrolled by high-end jewelry and timepiece brands.
Such was the case at Urban Zen Loft, where last week Swiss watchmaker IWC sponsored "For the Love of Cinema," an event honoring Robert de Niro, Jane Rosenthal and Craig Hatkoff, co-founders of the Tribeca Film Festival. Estelle debuted a song from her upcoming album and guests included IWC-wearing Carmelo Anthony, Susan Sarandon, Karen Elson, Heather Graham and James Marsden ("I'm kind of a watch nerd," the actor confessed, with date Bérénice Marlohe close by). Outside we interrupted Sir Patrick Stewart and Whoopi Goldberg.
"We came back from Spain yesterday," Sir Stewart bellowed.
"Not me!" Ms. Goldberg corrected. "He and his wife," and the actress bowed slightly to Sunny Ozell, also in our huddle.
---

$100K
Price of a VIP table at Carnegie Hall's Medal
of Excellence Gala

13
Years Whoopi Goldberg has served on the Tribeca
Film Festival Jury

---
"That could have been a really interesting news item," Sir Stewart said.
"Tell us about your bling," Shindigger interrogated.
"They're sliced caramel diamonds made by Naz and Jaz of Beverly Hills," Ms. Goldberg explained. "I'm in jeans, so [I put these on] trying to look like I gave a shit!"
From there we sashayed off to the Kips Bay Decorator Show House Presidents Dinner, benefitting the Kips Bay Boys and Girls Club, where patrons talked about the struggle to choose which jewels to wear.
"You can't have everything, so the earrings went, and I did a little bling on the fingers," said Bergdorf Goodman's Linda Fargo. "But then I was like, 'You know what? I'm going to wear a harness as a piece of jewelry.'" And she did, dazzling in a glittery Giuseppe Zanotti S&M number.
"I have a lot on my wrist," admitted well-adorned interior designer Jamie Drake, flashing eight gold, platinum and pavé trinkets. "Each one means something special to me, from the watch I bought in Dubai to the leather bracelet I got in Mykonos to the matching bracelets I gave myself and my boyfriend last year before he died."
Our last encounter with bling was at Carnegie Hall's Medal of Excellence Gala, which paid tribute to Oscar de la Renta. The Clintons were there, with the former president praising the fashion designer for his friendship and humanitarian work, before the former secretary of state stood up:
"This man has been working for more than 20 years to try to turn me into a fashion icon," the former first lady began. "Despite his best efforts…he's never given up!" 
Mr. de la Renta bravely admitted that "lately I have been going through a sort of rough patch," after receiving a seriously shiny medallion. "I have the most extraordinary wife," he added. Then he turned to the politicians. "Don't disappoint me," he warned Ms. Clinton. "I want you as the next president, OK?"
Soon the dinner bell rang and attendees such as Barbara Walters, Bette Midler, Diane von Furstenberg, Barry Diller and Anna Wintour marched over to Stern Auditorium to be serenaded by Julio Iglesias. Former mayor Michael Bloomberg voiced his commendation.
"They're here for the same reasons I am," he declared, referring to the Clintons. "To get an Oscar de la Renta discount!"