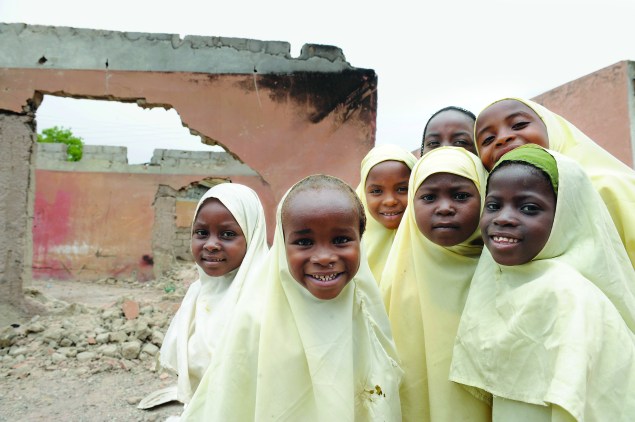 Now that Mary J. Blige, Chris Brown and other American celebrities have joined the #BringBackOurGirls campaign, drawing attention to more than 200 kidnapped Nigerian schoolgirls, much is being made of the media's "failure" to notice when Boko Haram first snatched them almost a month ago.
It is true that American networks and mainstream media waited several weeks from the event to cover the story. Some argue we ignored the girls because they are black. I believe if race was a factor, it has more to do with the fact that they live in Africa, where we unfortunately assume horrific things happen daily.
The bigger reason everyone ignored their plight is far simpler: gender. We left them to their fate, because they are girls.
No one knows with certainty what awaits them, but one well-placed community leader in the region told reporters the girls are being taken to Cameroon and Chad and paid the equivalent of $12 to "marry" Boko Haram militants.
Millions of girls each year are dragged away from school and entered into sex slavery. It goes on without anyone other than a few nongovernmental organizations batting an eye in Afghanistan, Pakistan, India, Saudi Arabia, most of the Middle East, huge swathes of Africa and parts of Asia.
Usually, it's far less dramatic: Their parents pluck them out of school and hand them over to Uncle Fester. But it's just a less visible form of forced marriage and human trafficking.
Boko Haram translates into "western education is forbidden." These proud foot soldiers of ignorance probably cannot read or write their own names, hatched as they are in the least-educated corners of a nation where literacy is 61 percent. If they can read, it's for one purpose: to memorize a seventh-century religious text and then trust in its explainers, extremist clerics centered in Arabia.
This group is the philosophical brethren of the Taliban, under whose mind-bogglingly misogynistic rule American troops are about to leave a generation of women and girls. Boko Haram is also only the extreme manifestation of a phenomenon that global feminism has provoked. Educated women pose a grave threat to men on the margins. Powerless in the global economy, shut off (in Nigeria) from any of the benefits of living in the world's sixth-largest oil producer, these men's personal sense of worth is entirely based on what they believe is their birthright to treat women like farm animals, or actually worse.
I recently returned from a reporting trip to Nigeria, where I met and interviewed members of the petro-state's micro-elite. Most Nigerians can expect to live to the ripe old age of 52, but the elites have access to the greatest health care in the world. I attended one tycoon's 80th-birthday party, a scene that rivaled ancient Rome for decadence. 
Every single day I was there, the depredations of Boko Haram made the front pages of the Nigerian newspapers. Armed men in fleets of Toyota trucks were screaming into villages, slaughtering men, women and children and setting fires, leaving ashes, corpses and terror. I later learned they had stepped up their campaign in the last year but especially in the last three months. The region where they operate has been in a state of emergency, and schools were closed. (The girls were only in school on the day they were kidnapped, because they had been brought in to take a physics test.)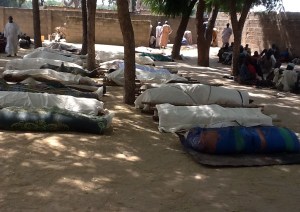 Not one of the people I met—major business and social leaders—brought up the subject unless I asked.
I don't want to go all Thomas Friedman here and suggest that my 'coptering in and out of country for 10 days left me with Davos-level insights.
But I can report that Nigeria's global super-rich have less to fear from Boko Haram than their fellow citizens. They all have one foot perpetually on a tarmac and second homes in London, New York or Miami. For them, the best defense is not the Nigerian military but a Swiss bank account and a private jet.
Some Nigerians think Nigerian President Goodluck Jonathan is capitalizing on terror to get some political gain for himself in the north, where the mostly Muslim population doesn't support him, a Christian, or his southern-based Democratic Party. But the sad truth is that the government really does know even less than the girls' parents about what happened to them.
I asked a journalist colleague in Nigeria, Ben Ezeamalu, who writes for Lagos-based Premium Times, why he thinks the Nigerian government has failed to hem in the insurgents. He blames, in part, the country's underpaid military. "How does a soldier who sleeps in a place that could easily be mistaken as a goat shed and whose daily drinking water ration is three sachets (about three pints in nylon bags) have the spirit to fight terrorists?" Mr. Ezeamalu said.
Money aimed at defense is, like every other pot of gold in the Nigerian treasury, subject to the kleptocracy. Mr. Ezeamalu said no one knows what happened to $20 million the U.S. recently said it gave Nigeria to fight the insurgency.
Brutal Nigerian military tactics—the extrajudicial killing of suspects—have discouraged intelligence gathering. "No one wants to come forward with information, because they will likely tag you as a terrorist and execute you," he said.
The moneyed elites and their families who have been feeding off the oil industry in the last 40 years are curiously disengaged from the chaos at the edge of their society, even as it moves closer to the center. 
The richest man in Africa, billionaire cement tycoon Aliko Dangote, hails from the Muslim northern lands and was educated at Al-Azhar. In March, he announced he was endowing a foundation with $1.2 billion (he is worth $13 billion). The foundation's stated goals are education, health and youth empowerment in Nigeria. Africa's second-richest woman, Folorunsho Alakija, another Lagos oil billionaire, also has a foundation that helps women and girls.
Capitalist philanthropy is not enough to fend off a systematic attack on civilization. But money buys influence, and the elites should use it to pressure the Nigerian government to be more vigilant. They are at least as guilty as the Western media of ignoring the horror at their doorstep.
Meanwhile, girl-napping happens daily, not just in Nigeria, but everywhere. The things that happen to girls are rarely of much interest to political and economic elites—no matter how many American pop stars shame them.