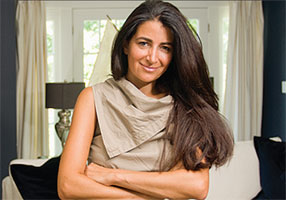 As voracious, and nearly exhaustive readers of real estate news, we often notice the same trends, businesses and experts bouncing around from publication to publication and month to month—some of which is to be expected with reporters working on tight deadlines, desperate for quote-ready sources, sifting through the same recurring themes.
But in recent months, we've been struck by the impressive press saturation of one Alison Bernstein, Armonk-resident and founder of Suburban Jungle, a real estate service that matches city-dwellers with suitable suburban towns. And while you'll often see a new concept covered first by the likes of The New York Times and The Wall Street Journal before it trickles down to the blogs and the real estate trades, Ms. Bernstein's company has displayed no diminution of media outlet prestige, appearing variously in The Real Deal (March 2012), The Wall Street Journal (Feb. 2013 and April 2014) as well as twice this winter in the New York Post (Feb 2014 and March 2014) and most recently in The New York Times (May 2014) as well as an impressive complement of other media outlets. And okay, we guess she's also appearing in the Observer (May 2014).
So what gives?
Have all of New Yorkers' fears about moving to the suburbs coalesced around this one woman, promising as she does, to ease the transition to a place so many of us both desire and fear? Is every forty-something real estate editor in the city considering a relocation? Or does Suburban Jungle just have the best real estate press person in all of New York? (Besides, aren't we all staying in the city anyway?)
We decided to call Ms. Bernstein to find out. And while the contact information on her website led to an out-of-service number, an email yielded a swift response from Ms. Bernstein herself. Which solved half of the mystery: reporters love easy-to-reach, responsive sources. She even took our call on her cell.
What accounted for all the recent publicity?  Were New Yorkers just obsessed with the suburbs?
"I wouldn't say obsessed. It's more that many people are opting to move with their kids," said Ms. Bernstein. "And I think we truly bring a unique model."
Did she approach outlets or did they approach her?
"Mostly, we've been approached. It's a lot of word of mouth, and then once people read things and the word gets out. Like we recently did an e-blast on Time Out New York," Ms. Bernstein said. "We're not looking for press really, when I started, I was just looking for an innovative way to move."
Fair enough and we can certainly see how it would be easy tor read something about Suburban Jungle. But had she seen, perhaps, a recent influx of New York media types considering a move to the suburbs?
Not really. In fact, a lot of people were choosing to stay in the city now, Ms. Bernstein explained. Basically, people fell into one of two categories: those willing to make any sacrifice to stay in New York and those who were always going to move anyway, the question was just when. (The answer, according to her, is when your child is in preschool, because parents become a lot less social when their kids hit kindergarten.)
One huge incentive to broke reporters and penny-pinching editors, however, is that Ms. Bernstein's services are free. Her company takes its cut working as a buyer's broker when city-dwellers decide to relocate—a model she claims is unique.
So you have no competitors? we asked.
"No competitors. I think anyone who creates something unique, it really does deserve some media attention."
That, and trend stories about moving to the suburbs are about as evergreen as you can get.