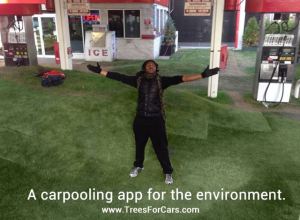 The following story from last summer probably rings a bell.
On his way to work each morning, Patrick McConlogue, a New York entrepreneur, passed the same homeless man. His name was Leo Grand, and the two would soon become friends in the unlikeliest of fashions.
Mr. McConlogue stopped one morning to offer the man a choice: $100, no strings attached, or the opportunity to learn to code.
If Mr. Grand chose the latter, which he did, Mr. McConlogue would provide him with three coding books, a laptop, and daily coding lessons.
Mr. McConlogue hoped a man with the drive could make a better life for himself if given the opportunity and the skills.
The story garnered a lot of media attention. Supporters praised Mr. McConlogue's attempt to help the homeless in a productive way while others — Betabeat included — snubbed the act, accusing McConlogue's "teach a man to fish" test as belittling and a poor attempt to eradicate a major social issue.
Regardless of all that, this story now speaks to a greater issue, as after learning to code and launching a successful app, Mr. Grand is still homeless, Business Insider reports.
In December 2013, only a few months after he began coding lessons, Mr. Grand launched a ride share app, Trees For Cars, which he programmed entirely on his own.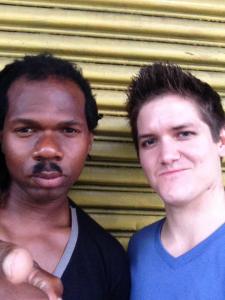 Drivers using the app select a location then choose from suggested riders. A 'match' occurs when the drivers and riders mutually select each other (think Tinder), and the app tracks how much CO2 was saved by the ride-sharing.
The $0.99 app had about 15,000 downloads, and after paying fees to the Apple and Android stores, Mr. Grand made a profit around $10,000.
But without a bank account of his own, Mr. Grand's money continues to idle in the account of his friend and mentor, Mr. McConlogue, Business Insider reports. (The two agreed a cash withdrawal wasn't a good idea).
The surprise here is that Mr. Grand doesn't want to open an account. The two have set out to the bank to do it, but Mr. Grand grew hesitant and insisted on turning around after only a few blocks.
Why would a homeless man just ignore the fact that he has 10,000? Fear, routine and a well-adjusted life on the street may be among the reasons, the article says.
Mitchell Netburn, the President and CEO of Project Renewal, a group aimed at helping the homeless rejoin society, gave Business Insider some insight on the problems associated with trying to get off the streets.
"They don't always understand how banks work. Who has access to them. Who can track them. It's overwhelming," Mr. Netburn said, speculating on Mr. Grand's tentativeness to open an account.
He claims that it's not uncommon for the homeless to be "'paranoid' about joining the system."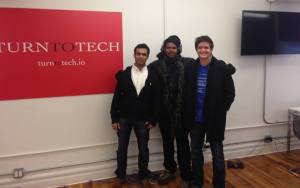 Pride can also come into play, he claims, adding that banks often require documents and proof of address which many don't want to admit that they don't have.
Despite any apprehensions, the duo are still trying to make it work.  They remain friends, and Mr. Grand, who claims to genuinely enjoy coding, continues to learn the trade at the 5th Ave TurnToTech school where he was offered a scholarship.
This story goes to show that homelessness is a complex issue that is difficult to tackle. Even after learning to code and launching a successful app that earned him $10,000, Mr. Grand is still fighting to get off the streets.
We applaud Mr. McConlogue's efforts (and he's certainly made a difference), but it's clear that an educated man with a business and a good heart can't wave a magic wand and change something that is such a large part of someone's life, even if it's for the better.
He's onto something though. Education and job skills are two things that many homeless people lack.  We've all heard of the vicious cycle — you need a job to get money, experience to get a job, skills/a degree to gain experience, and money to acquire those — which remains applicable here.
So, consider these baby steps.
Learning to code (or another skill) will definitely not be a quick or easy solution to homelessness, but learning never hurt anyone.
And although it doesn't seem this story has reached its final chapter, Mr. Grand's skills, success and drive point to a happy ending.