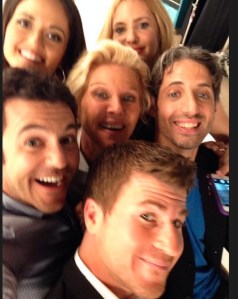 If you want to see an example of a perfect pilot, go on Netflix and watch the first episode of The Wonder Years. It's really an art form, one that we take for granted in the age of Breaking Bad and House of Cards. (Which also have perfect pilots, by the way.) But, and I've always thought this, Cheers and The Wonder Years were ages ahead of the game in terms of creating a fully-developed, insular world in 30-minutes. Remember how Winnie's brother DIED in the first episode? That's bold, especially for a show about childhood.
To celebrate the release of The Wonder Years: The Complete Series DVD, the cast got together on Today for some reunion selfies. Joining Fred Joining was Danica McKellar, Dan Lauria (Jack Arnold), Olivia d'Abo (Karen Arnold), Jason Hervey (Wayne Arnold), Alley Mills (Norma Arnold) and Josh Saviano (Paul Joshua Pfeiffer).
[protected-iframe id="d35edd49fca3b7d04e9c7848c331f85d-35584880-35147716″ info="http://www.nbcnews.com/id/32545640″ width="420″ height="245″]
Looks like they've all gotten by with a little help from their friends.