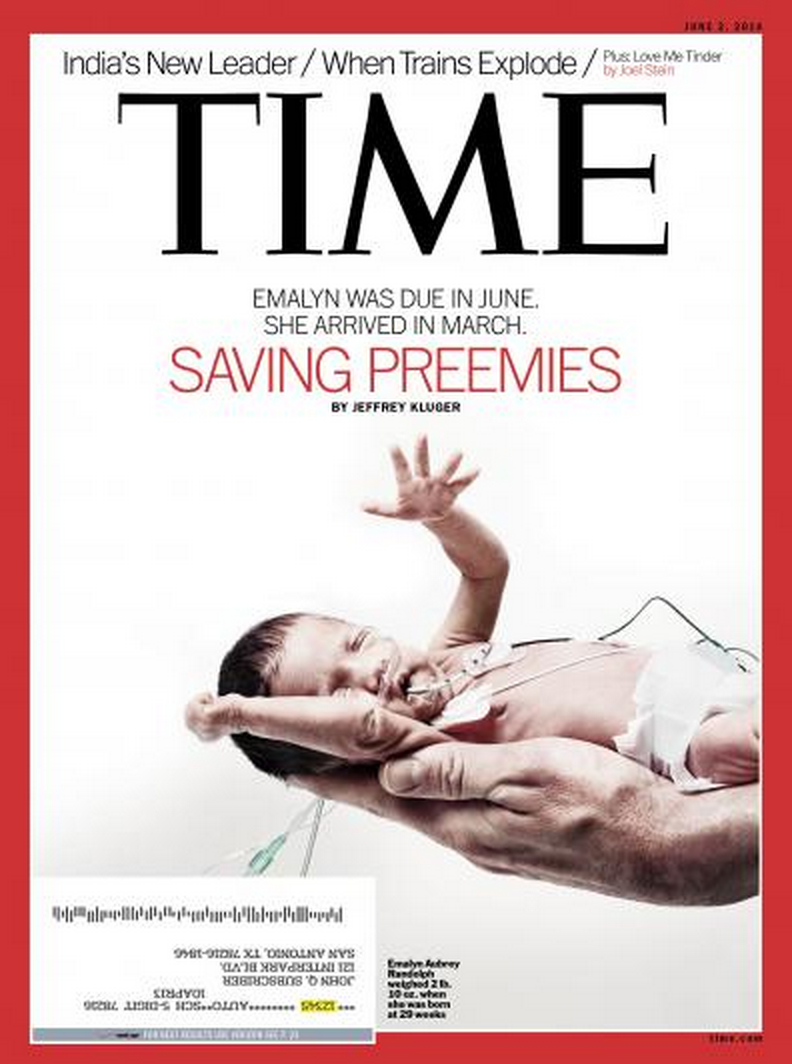 Despite the rise in new forms of advertising such as native ads, branded content and sponsored posts, magazine covers have remained pure, a way to sell the contents of the publication rather than a product. Until now, that is.
In this and next week's issues, Time Inc. has included advertisements on the covers of Time and Sports Illustrated, two of the company's most-read publications. While these minuscule Verizon Wireless ads — small banners beneath the address stickers — will likely go unnoticed by readers, they mark a shift in, and perhaps new direction for, print media advertising.
Regardless of the much-needed revenue that cover ads could bring in, the industry has largely adhered to guidelines created by the American Society of Magazine Editors. The first of these guidelines instructs magazines not to put ads on covers or spines, as "the cover is the editor and publisher's brand statement." (Time Inc. already broke part of this guideline, printing a Lexus ad on the spine of this years Sports Illustrated Swimsuit Issue — but that didn't get too much attention because of the cover featuring three topless models in bikini bottoms casually holding each other's butts.)
The magazines' recent ads, though seemingly innocuous, may herald the beginning of a new age in print advertising — Time Inc. is apparently considering running ads across the bottom of covers and in the table of contents, another spot long considered off limits.
But Time Inc. doesn't have qualms about breaking the tradition. "You can either say this is a groundbreaking decision to put ads on covers after 91 years in the business or you can say this is a relatively modest reference that catches up to what's going on in the industry," Time Inc.'s chief content officer Norman Pearlstine told AdvertisingAge.
He asserts that while the ads may violate the guidelines of the ASME, they don't break with the organization's core principles, which emphasize fair and accurate news, clearly marking advertisements, maintaining editorial integrity and acting to keep the trust of readers.
This addition of cover ads isn't the only way Time Inc. is shaking things up to save some cash. The company formally announced today that it plans to move downtown from its namesake, mid-town Time & Life building to Brookfield Place. The company will have six floors in its new lower Manhattan location, which was chosen in part — or probably entirely — for financial reasons.
"We have ambitious plans for a modern, open workspace that will be designed to foster a great sense of community and collaboration across the company, and it will deliver significant cost savings," said Time Inc. CEO Joe Ripp said in a statement. The company apparently also considered relocating to New Jersey, a threat that must have had employees eyeing the George Washington Bridge for reasons other than thoughts of a daily commute.
These changes come in advance of Time Inc. — the publishing side of Time Warner — plan to separate from its parent company and become its own public entity on June 6.