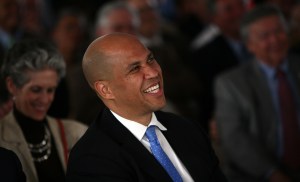 As four Republican U.S. Senate hopefuls march towards Tuesday's primary election, U.S. Sen. Cory Booker may be readying to do some campaigning outside of the Garden State.
The incumbent U.S. senator vying for a chance to win a full term to his Washington post is preparing to fundraise and campaign for some of his Democratic colleagues in other parts of the county, according to sources with knowledge of the senator's plans. Booker is expected to travel to areas where competitive races are building, including Louisiana, North Carolina and Alaska.
"[Booker] will view anybody coming out of the Republican primary as a serious threat," said one source, who agreed to discuss the senator's plans on condition of anonymity, adding, "[He] also wants to make sure Democrats maintain control of the Senate."
Booker's out-of-state travel could start to take shape in as soon as the next four to six weeks, according to sources, one of whom, noted, "In terms of internal Washington politics, the way you advance your cause and your mission is to help people in other races."
The news comes as GOP hopefuls Jeff Bell, Brian Goldberg, Rich Pezzullo and Murray Sabrin vie for their party's nomination to challenge Booker in the upcoming election. New Jersey political observers expect Booker to prevail against the candidates, who are largely unknown to voters and collectively reported less than $50,000 cash on hand.
"I think it's a tossup," said Brigid Harrison, professor of Political Science and Law at Montclair State University, referring to who will clinch the Republican primary election.
"Looking past Murray Sabrin, I think everyone of the candidates have single digit name recognition," she said. "In my estimation, lots of people are going to skip the Republican Senate primary."
The anticipated lack of a competitive general election means Booker can help Democratic colleagues in areas where Republicans hope to make gains in an effort to flip the upper chamber into GOP control.
When asked about the field of Republican candidates hoping for a chance to challanage him, Booker told PolitickerNJ in April his "focus right now is doing [his] job as United States senator."
"For me right now, it's not political season," he said. "After the primary, then it will be time to start talking about the election."
However, Democratic insiders say the status of New Jersey Republican politics on a statewide level in New Jersey lends Booker the ability to build relationships with seasoned lawmakers. And what's more, sources say, his colleagues are requesting his help.
"Nearly every senator who's in a competitive race this year has already asked him to come in and campaign, or raise money," said another source with knowledge of the senator's plans.
"I just think the fact that he's being asked to make those trips is a big deal. He's been in the position since Oct. 31, so I think it says a lot of what the national party thinks of him," the source said. "They think he's clearly valuable to their efforts."