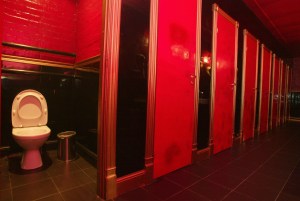 With tablets and mobile phones, it's easier nowadays to do work on the go. But New Yorkers aren't just taking their work on the go, they're working when they go.
An IKEA study of 1,000 New Yorkers, 17 percent brought their business into the bathroom.
The Swedish furniture giant writes, "New Yorkers have no issue conducting their business where other business is traditionally done."
The study, which also surveyed citizens of Moscow, Paris and Stockholm, among others, found that New York's workaholics aren't the only ones toiling away on the toilet. Stockholm reported one in six offenders.
The study also found that just under half of New York eats breakfast and we take an average of two minutes longer to get ready than any other country surveyed.
Next we'll be buying compact commode offices. Thanks, IKEA.