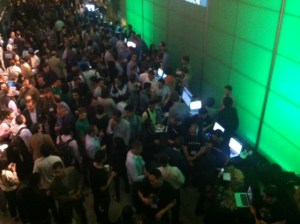 It's easy to get lost in a sea of startups these days, but when a company makes it through Techstars, we're more inclined to pay attention to them
It was a big day for big dreams. Following a three month crash course in tech-business facilitated by Techstars and their team of 170 mentors, 12 startups presented their ideas to a room full of eager investors today at the 2014 Techstars demo Day at the New World Stages Theater.
If anyone had blindly stumbled in, there were a few dead giveaways screaming "tech conference." Among them were firm handshakes between men in suits and others in plaid shirts, words you're not quite sure how to pronounce printed in inviting cursive-esque font on banners above, and a sea of men wearing logoed T-shirts with a few women sprinkled in between. And there was no line for the women's bathroom, of course.
After breakfast, presenters, investors and other tech gurus made their way to the stage three for the pitches. They were witty, statistic-driven, and for the most part, entertaining. The first presenter entered to the Star Wars intro song.
Here's the roundup:
This first startup aims to cash in on the DIY craze and help everyone explore their inner creativity. The founders paired practical DIY kits that come with everything you would need for a project with entertaining instructional videos in which they themselves star. The Mason Jar Herb Garden Kit, their top seller, has made over 40,000 sales, 25,000 of which were in the last 60 days. After announcing recent accounts with Macy's, Nordstrom and Urban Outfitters (among others) these presenters wanted to know, "Are you ready to get down and dirty with MakersKit?"
Two scientists who were fed up with the damn incompleteness and disorganization plaguing the field developed Standard Analytics to transform scientific papers into standard API. The papers in their repository, which is the largest in the world, come automatically annotated with results, data and code, which unlike other databases, allows for replication of results. Their collection covers 5.5 million biomedical concepts and offers free access to individuals and paid access to universities and pharmaceutical companies. They hope better access to scientific information will accelerate research and lead to important discoveries. They did it #forscience.
This online music venue helps musicians make money by capitalizing on the the fact that there are more online music fans than ever before. With Concert Window, fans can log on, preview a show playing in real time, pay what they want to watch it, tip the artist and buy merchandise all on one page. The average viewer pays $12 for a show, and two thirds of that goes instantly to the artists via PayPal.  Artists, who can do a show with nothing more than a laptop, are already performing 350 live shows monthly.
Rival Theory is building a platform for emotionally intelligent characters you can play with across multiple video games. Io, the first character on the platform, Sentio, acts as a sidekick with his own personality, memory as well as the ability to learn from his own playing experiences while garnering information about the player. He creates a player profile to better influence user gaming experience, basically personalizing.
This startup claims they're fixing the enterprise learning industry because while the majority of companies use learning management systems, the dissatisfaction rate among them is 60 percet. They're attacking a huge market full of outdated software with an interface that is constantly updated, easy to use and complete with talent graphs to show users who in their company possesses which skills and what resources they used to acquire them.  And, unlike other LMS, this one isn't top-down.
There's a big difference between making one and making a whole bunch, which leads to difficulties for independent designers trying to grow. Matter.io is solving this problem by reinventing manufacturing with a full-service online manufacturing system. Log on to the flexible production engine to choose materials, shift between vendors and go through the whole process with a few quick clicks. The products are automatically shipped between manufacturing venues and then to the customer. And for the best part: it finds the lowest cost and highest profit margin at every step along the way.
They're Techstars' first ever non-profit, and they're doing big things.  They want to get a laptop in the hands of every child who wants to learn how to code, so they're crowdfunding, one laptop at a time, to make it happen. Partners inform them of children who show potential but can't afford a computer, and each time Codestarter earns another $250 (that's all it takes), they install Linux on an Asus Chromebook and send it off with an instruction manual to another child. They just launched their website today, but secured pledges for 111 laptops during the two weeks prior to the launch.
Business offer free WiFi because it makes their customers happy, but they don't get much out of it. SocialSign.In is changing that by providing businesses with useful data based of their customers wifi sign-ins.  When customers check into the WiFi at a venue using SocialSign.In, they can see current users and foot traffic in real time. It even shows them profiles of the people, how many times they've come to the venue, if they're connected with the business on Facebook, etc.  It also shows users top Facebook interests, giving the business insight that can be used for everything from advertising to which music they should play.
This cloud computing service utilizes application containers to make applications portable and their deployment more efficient. The application containers, which can be compared to shipping containers, do in seconds what takes developers days to do manually; all it takes is one command. Tutum has upped the game of cloud computing with their faster, simpler, more efficient cloud.
This startup created a mobile platform to more efficiently match talent with hiring managers. After job candidates log on with LinkedIn, they're pre-screened and matched with potential jobs. Employers post job openings and review matched applicants. Lynxsy even handles payroll and paperwork, which along with the pre-screening, has already proven to reduce the average hiring time of 23 days to seven days.
This one billed itself as the improved Dropbox.  Infinit's Windows, Mac and mobile applications allow users to effortlessly send and receive files of any size in seconds. No links are involved; just select to send and accept to download. Additionally, transfers aren't cancelled if you lose your internet or close your computer.
This startup centers around a series of iPad apps of interactive stories for kids.  The app personalizes scenes, environments and entire stories with characters that understand users' emotions. They're off to a good start: the apps have hit #1 in 38 countries so far.
And that's all. The pitches wrapped up, lunch was served, techies stood by their stations for questions, and then they went on for the one-on-one investor meetings. The startups are likely to garner millions in funding, so now it's time to wait and see just how big they'll get.