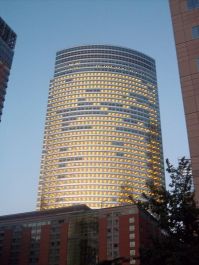 Some people are just never happy.
When Deeb Salem was working for Goldman Sachs, he claimed to have helped the company earn $7 billion, making the $8.25 million bonus he received in 2010 a slap in the face. Instead, the 35-year-old former trader expected a $13 million pay off. He even told his mother about his big check, Bloomberg reported.
Mr. Salem suspected that Goldman cut his bonus based on a warning the company gave him about his "extremely poor judgment" when he submitted his 2007 self-evaluation. Though Goldman Sach's policy—which Mr. Salem signed—states that all bonuses are subjective, he's fighting back. He sent a petition to the New York State Supreme Court, asking for not just the difference between his expected and actual 2010 bonus, but millions more in arbitration.
While Mr. Salem claims he was the cream of the investment banking crop, Goldman Sachs thinks he just has a big head.
A spokeswoman for New York's Goldman Sachs told Bloomberg, "These claims are utterly ridiculous, which is why they were rejected by a Finra panel, and unworthy of any further response." At Mr. Salem's hearing, Goldman's lawyer echoed, "He's not entitled to more simply because he would like to have been paid more. If that were the case, you'd have traders and bankers in here every day of the week."
Looks like this one isn't worth his weight in gold.