If Christopher Nolan's Dark Knight series and Tim Burton's 80's Batman had a baby, and that baby was born with Fox's budget and production value, the result would be Gotham. The pilot, which literally starts off with a bang with the murder of Bruce Wayne's parents, a case then picked up by rookie detective James Gordon, is realistic when it needs to be but comic book-y in equal measure.
At least that's what I took away from an advanced screening of Fox's Batman prequel series last Thursday at the Crosby Street Hotel. By far the highlight of the pilot episode, set to air in the fall, is the enthusiasm of Gotham's young cast. Former OC star Ben McKenzie leads the way as a young Jim Gordon, Robin Lord Taylor plays Oswald Cobblepot before he becomes The Penguin, and Broadway's Breakfast at Tifanny's leading man Cory Michael Smith makes a brief but memorable pilot appearance as Edward Nygma.
What do these young stars thinking about filling out the shoes of such iconic characters beloved — and sometimes obsessed over — by millions of people? I caught up with the cast at an after-screening cocktail to get into the head's of the heroes and villains of Gotham City.
"I love the idea that in this noir-ish world, instead of Batman being the focal point, Jim is," Mr. Mckenzie told me in a darkened corner of the packed affair. (A Batcave tribute, perhaps?) "And Jim is even more fallible and weak and human than Bruce Wayne is. He doesn't have a billion dollars, he isn't other worldly intelligent. He's just a cop trying to do what's right but failing a lot of the time."
Mr. Mckenzie is no stranger to the Batman mythos. He provided the voice for the the Caped Crusader himself in the animated film Batman: Year One, opposite a Jim Gordon voiced by Bryan Cranston. It is the lack of Batman, however, that Mr. McKenzie finds most intriguing about Gotham.
"I think the easy criticism is, it's a Batman show without Batman. I don't find that argument very compelling," he said. "If all you were interested in was Batman in the entire Batman universe it's just like, 'Really? You weren't interested in one other person?' There are millions of characters, all of which we can show, and will show."
Practically bouncing around the room is the relatively fresh-faced Mr. Taylor. Cobblepot is his first major recurring role after spending a substantial amount of time known as the guy with A.D.D from the movie Accepted. Mr. Taylor shares the hook nose and manic energy of his Gotham counterpart, but with no trace of the malice (although I may be biased after we bonded over a shared love for the video game Batman: Arkham Asylum, with which I've wasted hours of my life).
"My ultimate goal is to portray him as humanly and realistically as possible," he tells me. "So its not just me laughing as someone gets their arms chopped off. I want it to be an actual story about what he's going through. Something that people can relate to. Definitely not aspire to, but like, 'Ah, that makes sense to me.'"
Stepping into the role of the future Penguin was daunting for Mr. Taylor, and the feedback was immediate. Some of the negativity towards Mr. Taylor, who stood a good couple of inches shorter than me, was surprising.
"For the first time in my life, people were saying I'm too thin and I'm too tall. And I'm like that's fantastic!" Mr. Taylor said. "I went on a little bit of a blocking spree on Twitter. Then I was like, you know, whatever, just let it all be out there."
As the young Edward Nygma, who nerds like me know eventually becomes the Riddler, Mr. Smith also faced an enormous reaction when his casting was announced. In his case, it was a little more direct.
"I actually heard from a guy that runs RiddleFactory.com, who think the Riddler is just the greatest thing in the world. I don't know how, but he got my contact information," Mr. Michael Smith said. "But he was actually really cool, we've spoken a few times."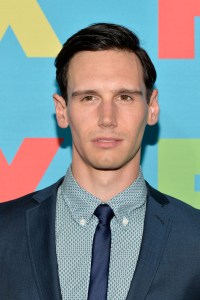 Gotham shoots almost exclusively in New York, meaning a majority of the cast has been relocated to the city for the time being. As I watched the pilot, I couldn't help but notice the city between New York and Gotham that went deeper than appearance. I asked the cast if that was intentional.
"Hopefully in our take on Gotham, you get the pulse and energy that New York naturally has," Mr. McKenzie said. "That pounding in your chest that you get when you walk around New York , particularly for the first time. And a sense of danger that to some degree still exists here. The in-your-face of it. Gotham isn't a place where the citizens sit back. They let you know how they feel."
Mr. Taylor, a native New Yorker who lived in the city far before he was cast in Gotham, was less poetic, but certainly just as accurate.
"We can be shooting a scene where we are punching the crap out of a guy, and there will be people not even looking," he said. "They don't even notice.That is quintessential New York. That is my favorite thing."