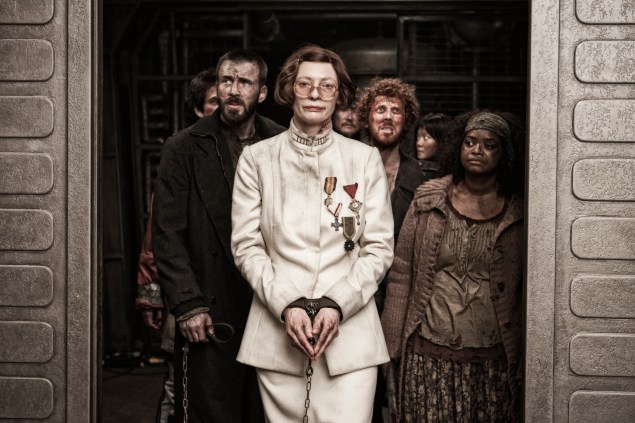 How many times have you found yourself sitting through a movie, hating almost every minute of it, so appalled by the grotesque violence that you find a lot of it unwatchable, yet so transfixed by the vision, artistry, technical expertise and ravishing imagery that you can't take your eyes off what you are watching or go away without feeling devastated? In my case, very rarely indeed. Yet that is exactly my reaction to the amazing Snowpiercer, an upscale, high-concept $40 million futuristic epic by the visionary South Korean director Bong Joon-ho. It's too gruesome to recommend to everyone without reservation, but if you love movies, you can't afford to miss it.
---

SNOWPIERCER ★★★½
(3.5/4 stars)

Written by: Bong Joon-ho and Kelly Masterson
Directed by: Bong Joon-ho
Starring: Chris Evans, Jamie Bell
and Tilda Swinton
Running time: 126 min.

---
Mr. Bong is Korea's most imaginative and stylistic film director. He makes controversial yet highly acclaimed movies that work in every market with universal appeal. His highly acclaimed 2006 horror film Host grossed $64 million and brought new international attention to Korean films. With a distinguished cast of English-speaking stars and twice the carnage, I predict Snowpiercer will break that record and then some. 
Forget about the apocalypse. Set in 2031, the apocalypse has already come and gone, wiping out the planet as we know it. Obviously hooked on feverish translations of Cormac McCarthy and movies by James Cameron and Guillermo del Toro, and adapted (with an assist from Kelly Masterson) from the obscure French novel Le Transperceneige, Mr. Bong shows a world already wiped out by global warming in which a few thousand survivors are imprisoned in a sealed train that represents a microcosm of society, speeding across the frozen wastes of the Arctic like a human ark. Clothes, food supplies, water, soap and other necessities no longer exist. In the back of the train, in the filthy dungeons of the lower classes, some people have lasted for 20 years asking questions like, "What does steak taste like again? I can't remember." Faces of parents and other loved ones are distant memories. Mothers hide their forbidden children from the carnivores who feed on newborn babies—an obvious delicacy. Instead, they live on a diet of gelatinous black protein blocks made from industrial waste. Life, or what's left of it, is grimmer than hell.
On the opposite end of the moving vessel, on tracks that lead to nowhere, lives Wilford, the eccentric master of mankind and billionaire corporate engineer who invented, designed and built the high-speed train and the track it runs on—and also commands the engine. Wilford is played by a magnetic Ed Harris in one of his most exciting, obsessive and dangerous roles since Pollock. The pathetic creatures in the caboose know one thing: Control the engine, and you control the universe. Eternal order is maintained by the sacred engine and all past revolutions have failed because the insurgents could not reach the engine room. Now their fate is in the hands of a hunk in the prison section, played by superhero Chris Evans, and his band of fearless followers headed by John Hurt, Jamie Bell and Octavia Spencer as a despondent mother searching for her lost son. 
Miscreants and rebels are punished by having their arms poked through holes in the wall where they freeze in a matter of seconds into the consistency of metal. When their arms are pulled back onboard, they get hammered off the anatomy with anvils. The drug of choice is kronole, made from industrial waste and used as bargaining tools for useful addicts such as an imprisoned security expert, played by popular Korean star Song Kang-ho, and his daughter (Ko Ah-sung), who are rewarded with hallucinatory kronole for guiding the uprising to the engine room through a labyrinthine tunnel of train cars. This is where the director's visual style runs wild.
There's not much of a plot, but you won't be bored as the clock ticks through various sections of the train's ecosystem that the militant prisoners never knew about. There's a quarantine section, a water supply system, a lush greenhouse, an aquarium that serves a sushi menu to a four-star restaurant twice a year. One particularly terrifying car is inhabited by masked men carrying pickaxes and hatchets and who dismember and behead each other in slow motion. Evil villains come from every shadow, the most grotesque monster being an unrecognizable Tilda Swinton, dressed entirely in white with enormous buckteeth, oversized glasses and a black wig. She dispenses dystopian tortures and keeps the various class systems in line like Robespierre. Most amusing car: a brightly colored schoolroom decorated with whimsical crayons where the cheerful nursery teacher (Allison Pill) teaches the children to sing, "What happens when the engine stops, we all freeze and die!" before mowing them down with machine guns.   
The closer the revolution gets to the front of the train, the more it looks like the luxurious Orient Express, replete with beauty salons, dentist's offices and swimming pools, including a disco and an orgy room. From the dark bowels of the prison car to the kaleidoscopic revolving wheels in doors that lead from one section of the train to another, the sets are a lavish assortment of thrills, while the awesome special effects and computerized graphics never run out of surprises, leading up to the most massive train wreck ever captured on film. Even the finale is a shocker.
Is Snowpiercer my kind of genre flick? Hardly. There's so much sadism, cruelty and spurting blood that I had a rough time looking at the screen. Yet I found it to be such a masterpiece of technology and design that the violence becomes surreal. Filmed on a series of connected sound stages in Prague, the train is a warren of mysteries. This movie is horrifying, lavish, exhilarating, depraved, bewitching and unique. Best of all, it's unlike anything you have ever seen before, and that in itself is very high praise indeed.